Generate AI Text

Generate AI Voice

Generate AI Image

Generate AI Video
with CogniSpark video generation platform
Make studio-quality videos and content come alive for your podcasts, presentations, training, and tutorials with artificial intelligence.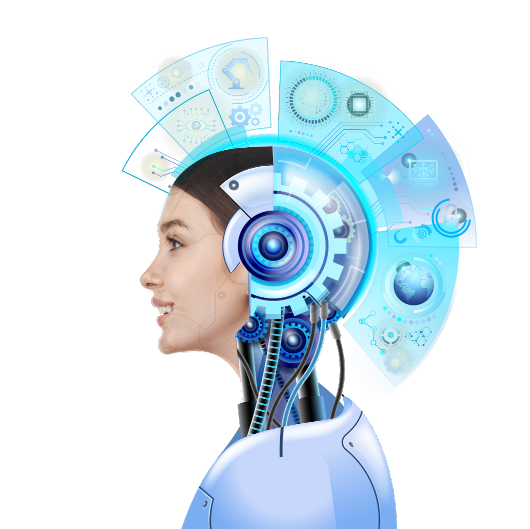 is your one stop solution
With CogniSpark video generation platform you can easily convert text to speech, transcribe speech to text, record your screen, translate text in multiple languages, and even create AI video avatars with human-like avatars
Turn your words in captivating content 
Just like Chat GPT, the AI content generator empowers you to craft captivating blog posts, compelling emails, video scripts, impactful marketing content, interactive quizzes, and engaging e-learning and training materials.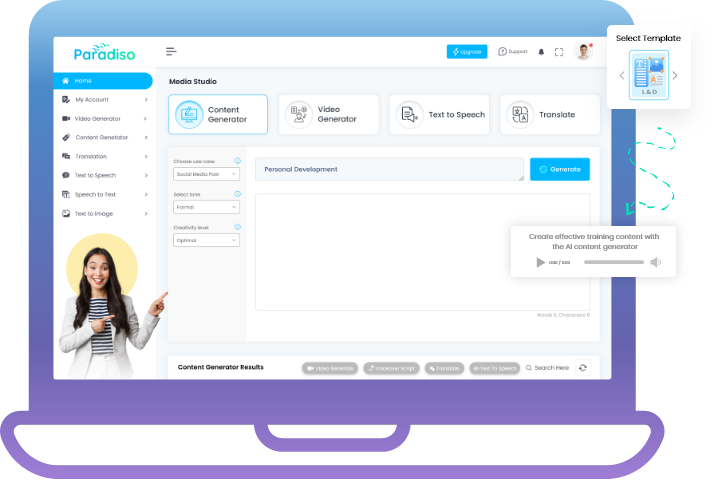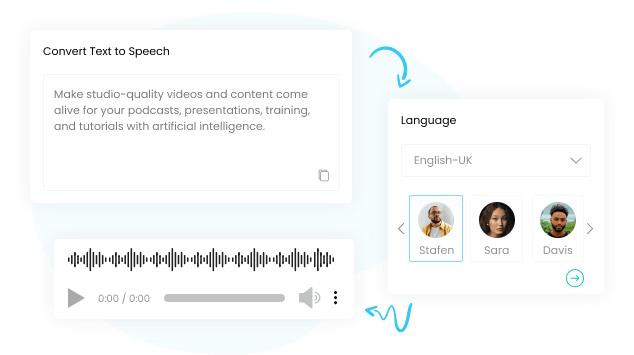 Convert text into natural sounding AI voiceovers
Create an audio version of an employee training manual, making it more accessible for employees with reading difficulties or who prefer to learn through listening rather than reading. The AI text to speech converter also helps in generating ai voiceovers for presentations, videos, and other multimedia materials.
Turn your words into action
Convert spoken words into written text to automatically transcribe meetings, interviews, and more. With AI speech to text converter, you can quickly and easily turn your spoken words into actionable information, streamlining your workflows and increasing productivity.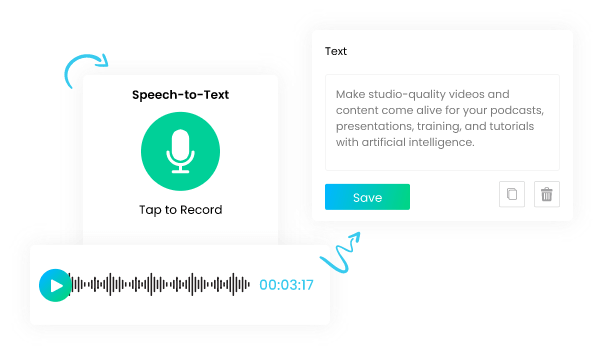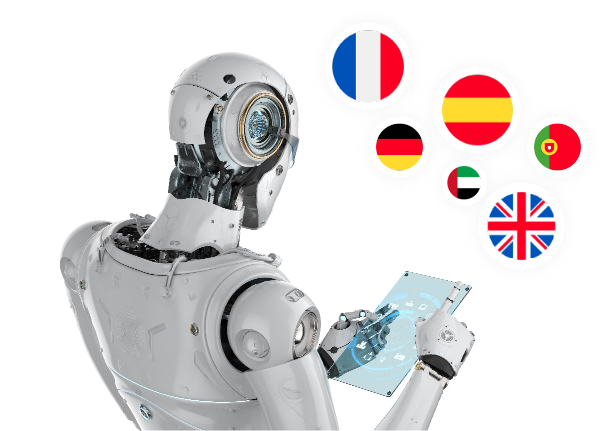 Break the language
Barriers with AI translator
The AI Translator is a valuable tool for businesses looking to expand their reach, as well as individuals communicating with people from different cultures. The user-friendly interface makes it easy to use and a versatile tool for breaking down language barriers.
Paradiso Kapture more
with Screen recorder
Recording your screen and webcam together is made easy. This feature allows you to capture valuable information through spoken narration as well as visual demonstration, making it perfect for creating e-learning content, tutorials, and future reference.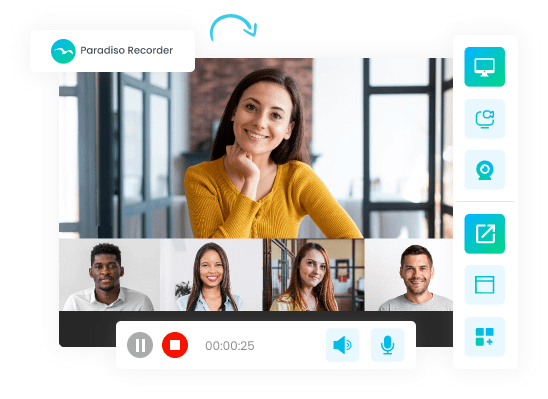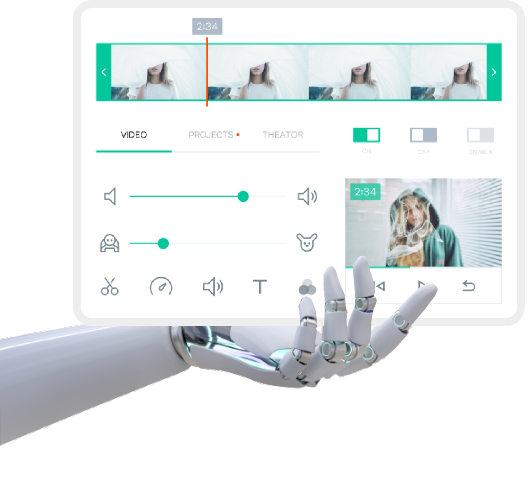 Wow your Audience
with the AI video generator
Generate videos with unique AI avatars or customize them for an engaging and interactive experience. With this technology, create  customized explainer videos, tutorials, and other forms of educational content from audio, blog posts, articles, and more. 
Create Realistic
Images from Text
Enter your text prompts to create an artistic image with your imagination with ai image translator. From cartoon portraits to digital art you can make any stylish picture you wish with this magical wand. You can use these images in various way for advertising and marketing.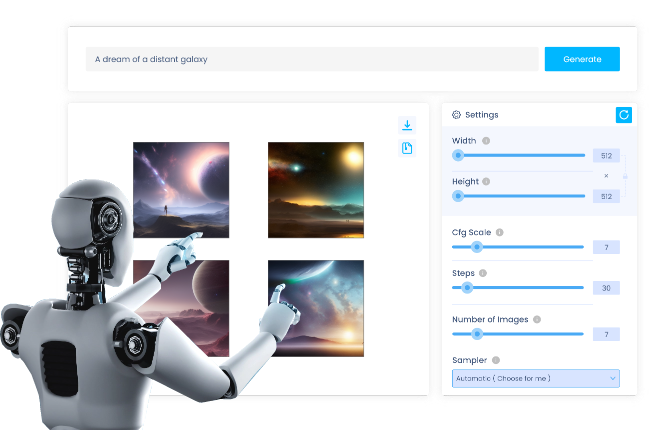 Why CogniSpark
video generation platform?
With CogniSpark video generation platform you can enhance your productivity and quality 100x. Quickly access the features you need to create and edit audio and video content, transcribe audio files, and manage your media projects all in one place. Whether you're a podcast host, video creator, or media professional, CogniSpark Media Studio has everything you need to take your media projects to the next level.
CogniSpark your one stop
AI video generation platform
Text to Speech
Let it turn text into voice, whether from a website, email, or document
AI content generator
Create course content outline to course content creation within minutes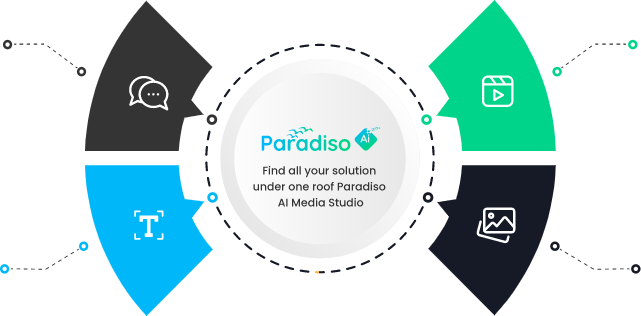 AI video generator
Cost-efficient alternative to the complex traditional video creation
Text to Image
Creates an image from a text description with Ai image generator
Elevate Your Course Content Creation Process With
The Help Of Our AI
video generation platform
Paradiso text to speech converter is a useful tool to convert any text into lifelike speech, thus allowing you to create various media content such as audio books, podcasts, voice contents and also applications that talk, and build entirely new categories of speech-enabled products.

Unique Avatars
Experience unique customized avatars to engage your learners

Multiple Languages
Understand with ease with the multilingual feature

Authentic Voice
Create audio files with any document file
A wide range
of solutions for content creators
Elevate the impact of your content with our powerful tools that will make your content truly magical. Create and distribute training materials in different languages, audio versions, video tutorials, and interactive avatars that can help to enhance the learning experience.
Training Video
e-learning
Marketing Video
News Video
Training Video
Transform your articles into training videos in less than a week using CogniSpark. The software is extremely user-friendly and intuitive.
e-learning
Marketing Video
News Video
CogniSpark text to speech converter has been a game-changer for my business. The natural-sounding voices and wide range of accents make it easy to reach a global audience. It's also incredibly user-friendly, making it a breeze to use for even the most non-technical members of our team.
I've been using the CogniSpark speech to text converter for transcription of my tutorials and it's been a lifesaver. The accuracy is top-notch and it saves me so much time compared to transcribing manually the content for my assignments. I highly recommend it.
I was blown away by the capabilities of CogniSpark video generator. It's able to create high-quality videos which are quite engaging and look realistic within minutes. It's an invaluable tool for anyone looking to create videos quickly and easily. It has helped our Advertising agency in gaining more leads.
CogniSpark content generator has been a great tool for me to quickly generate new ideas for my writing. It's helped me to write faster and more efficiently, and I've been able to produce high-quality content in no time


Introduction AI tools are having a significant impact on today's shifting educational scene. As technology progre0sses, teachers are embracing AI to better how they teach
Read More »


Introduction In today's fast-paced digital era, the world of education has undergone a remarkable transformation thanks to the advent of eLearning. As traditional classroom setups
Read More »


Introduction In today's rapidly evolving world, technology in various fields has become indispensable, and the realm of Learning and Development (L&D) is no exception. One
Read More »
Any Questions? Find here.
Don't find your answer here? just send us a message for any query.