Your Vision, Our Platform
Transform your Ideas into Interactive Training with

Generative AI
Enhance workplace training with CogniSpark for better employee productivity and business growth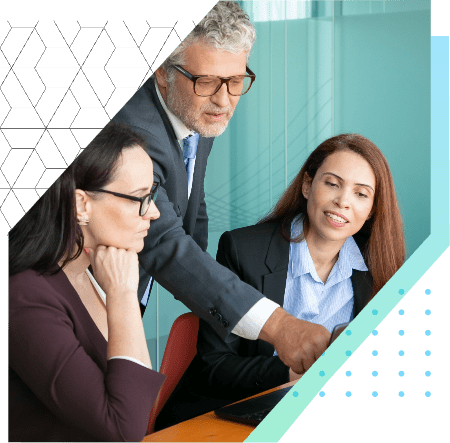 Workplace training and learning AI solutions

Save time and Cost
Create employee training specific courses in minutes not hours or weeks.

Enhanced Accuracy
Create a customer training content library within minutes with 100%.

Reach globally
Create a product training classroom globally with generative AI with conversion into 75+ languages.
CogniSpark – Your Partner in corporate training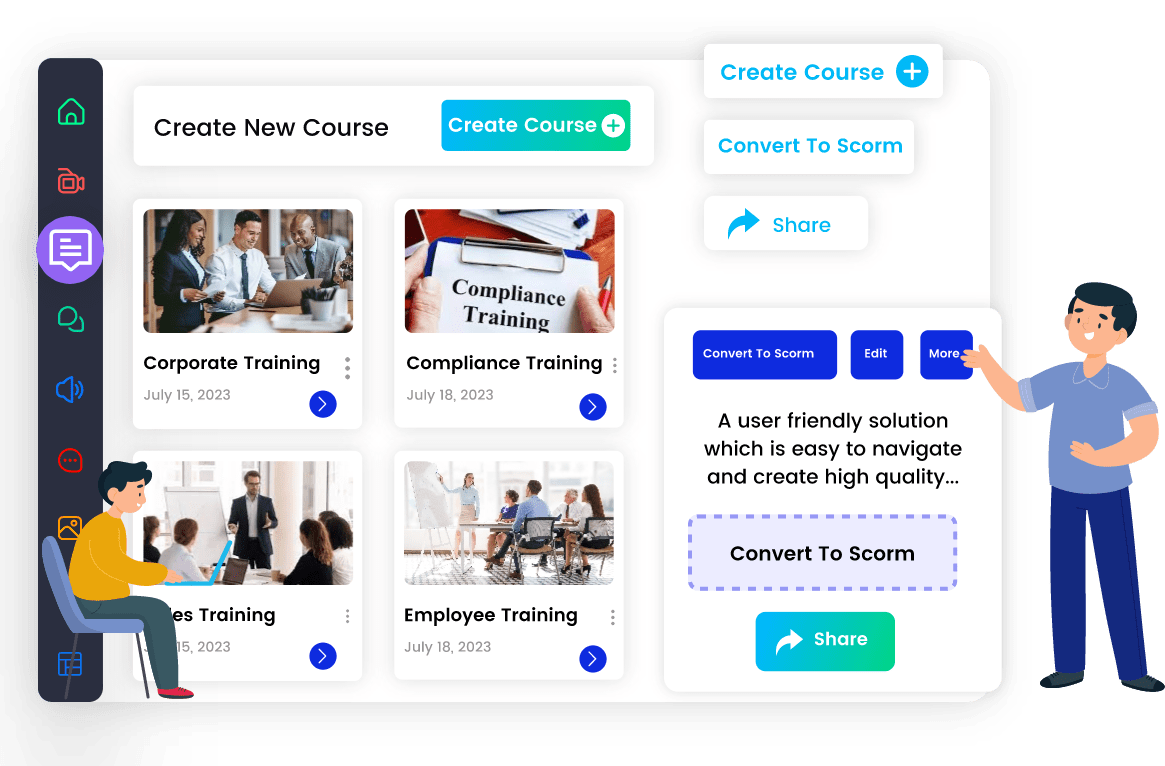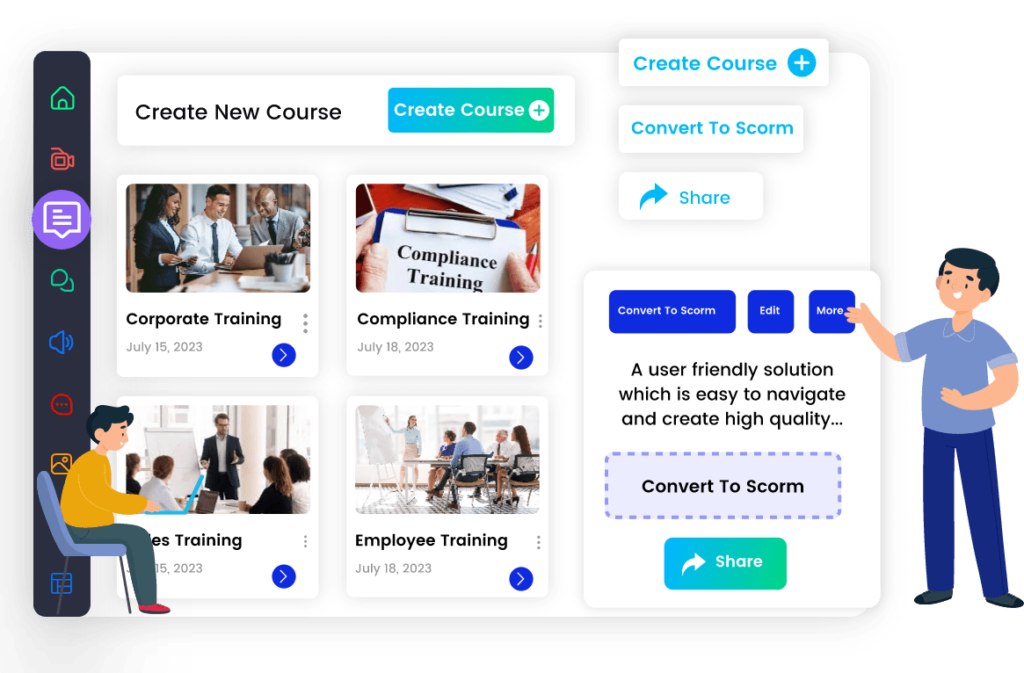 A simple user interface for creating better training content
No worries if you're not a training course creator. CogniSpark Studio lets anyone, from corporate trainers to managers, create engaging courses within minutes. It's an all-in-one content creation platform with an intuitive interface
Create Micro learning nudges for employee knowledge retention
Break down you are training or product description video or course into multiple short courses which can be shared over a span of time for better understanding and lead to an increase in productivity.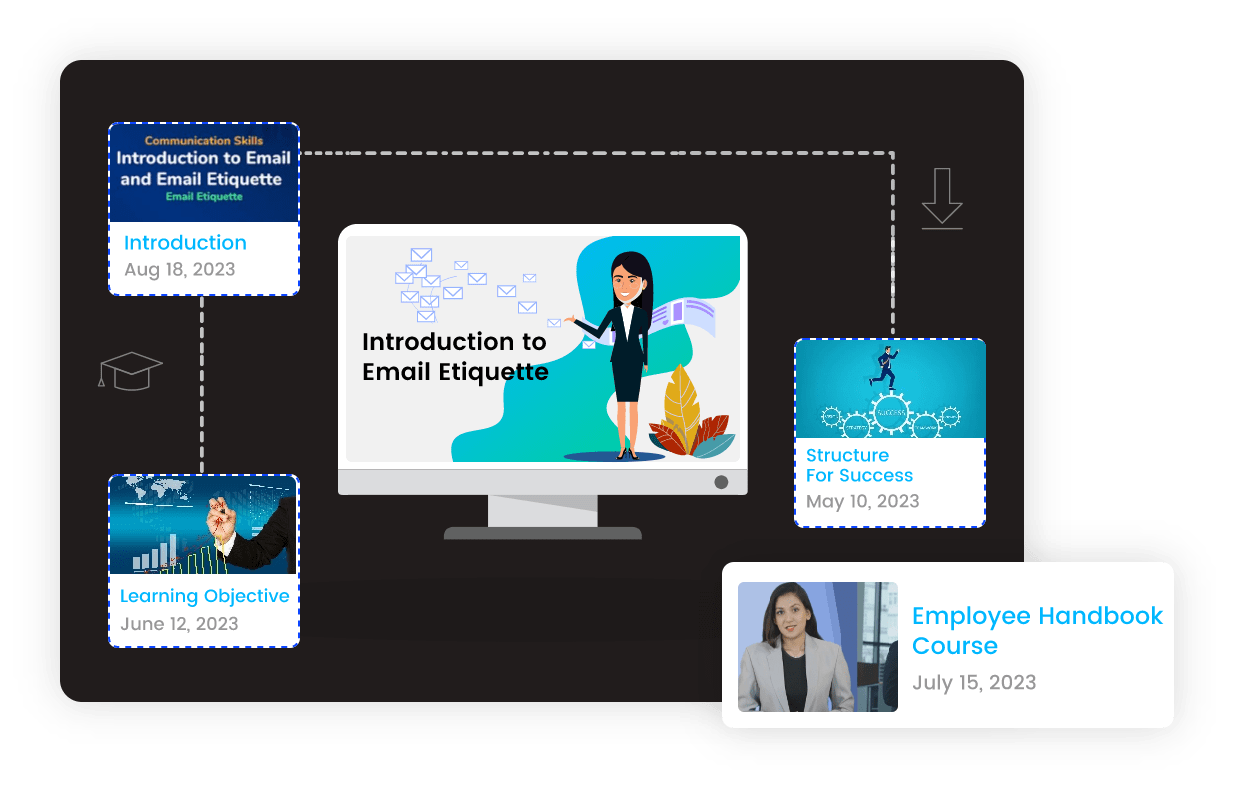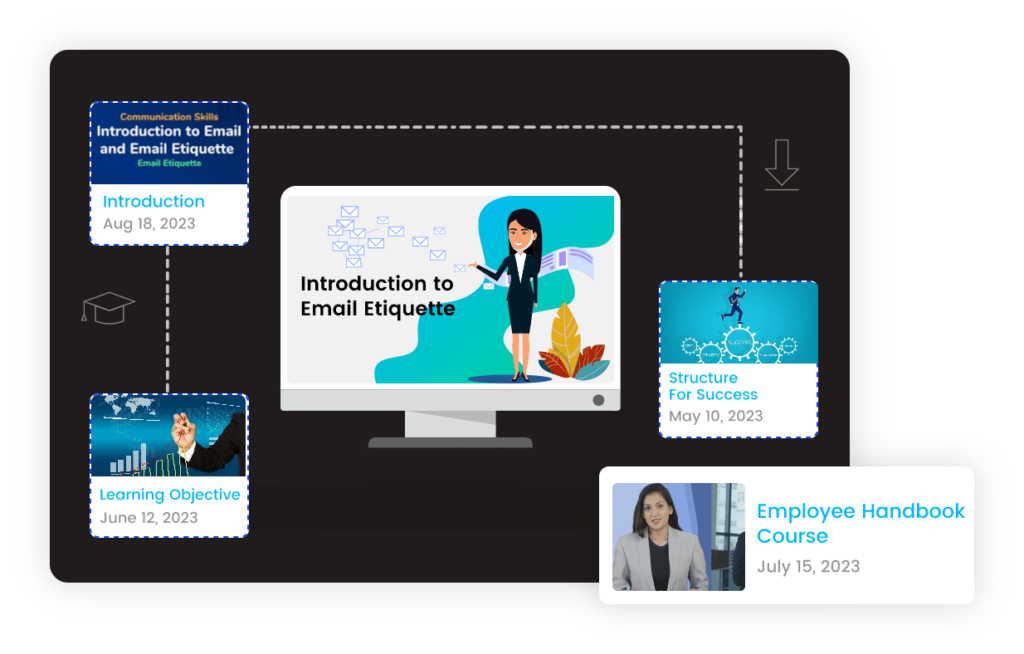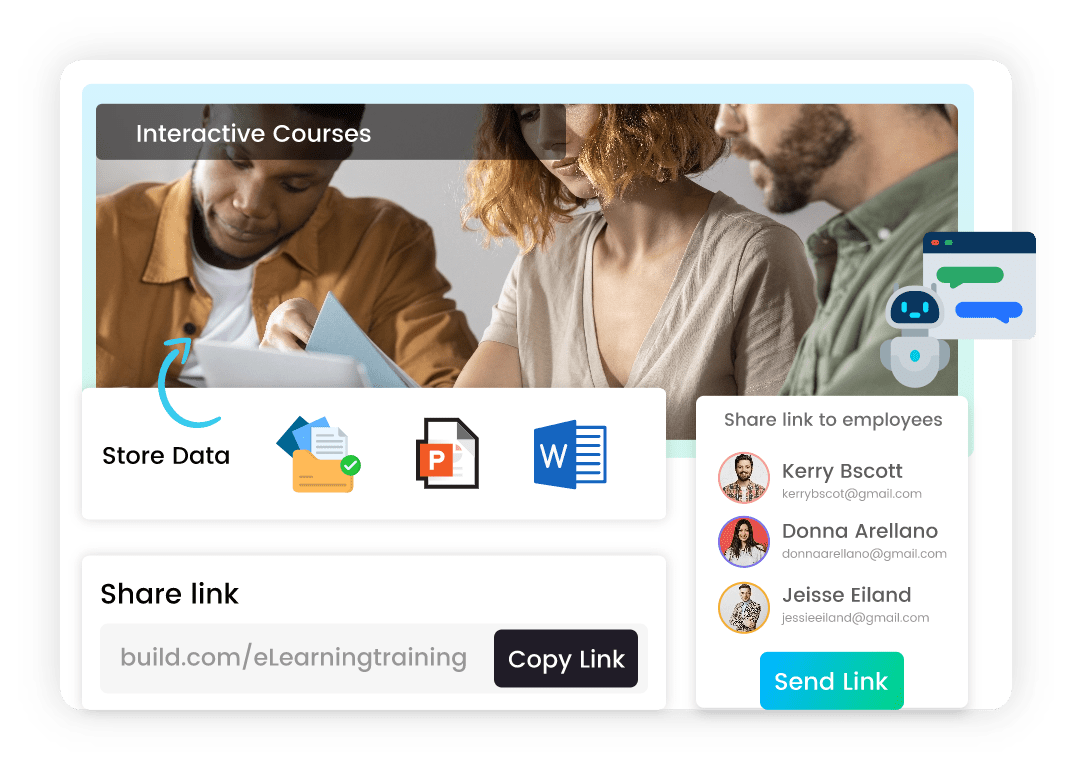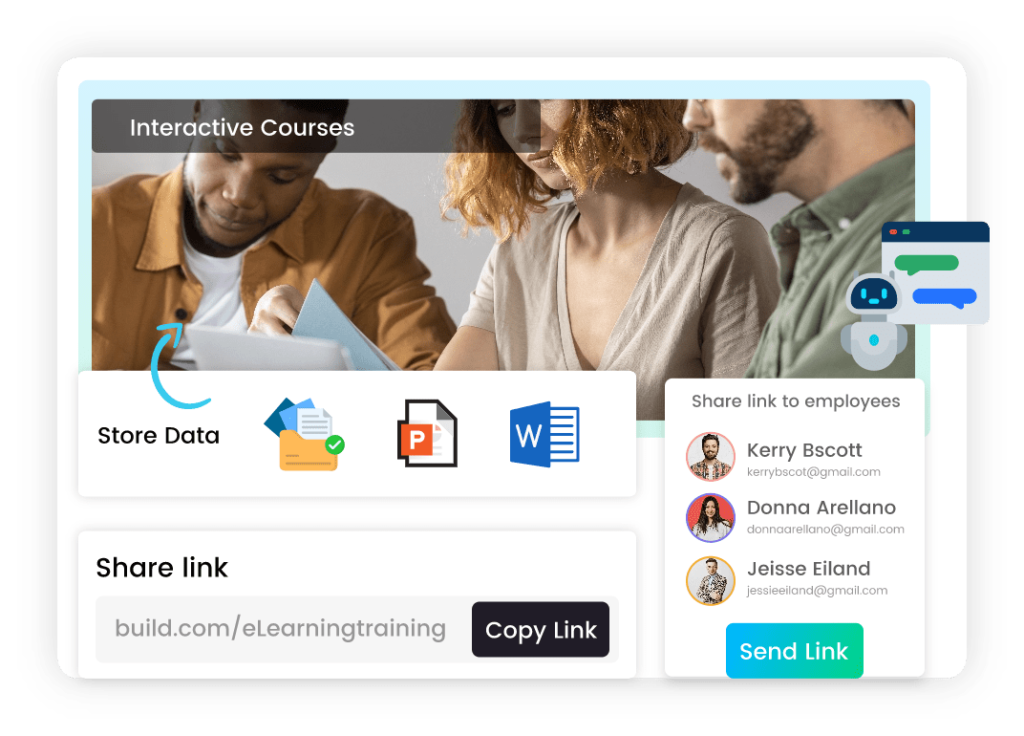 Create a training room by sharing your content instantly.
Turn your official documents, PowerPoint presentations, word documents and product details into interactive courses with the AI eLearning Authoring Tool. Then share a direct link of the created course with your employees or integrate it with any LMS or LXP.
Enhance training with the AI tutor
The AI tutor simplifies complex concepts. Helps create simulations for scenario-based training of employees for critical thinking and problem-solving situations. They can also test their product knowledge using the AI tutor's quiz feature.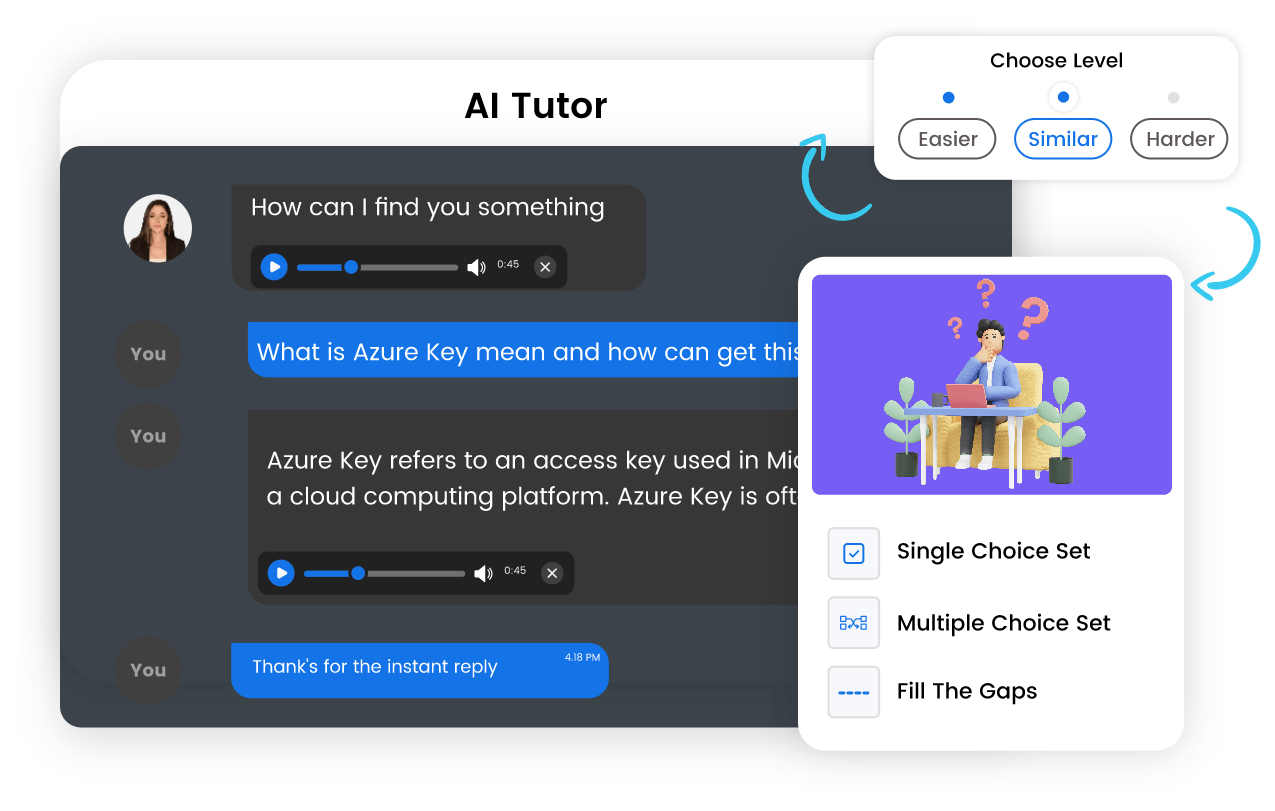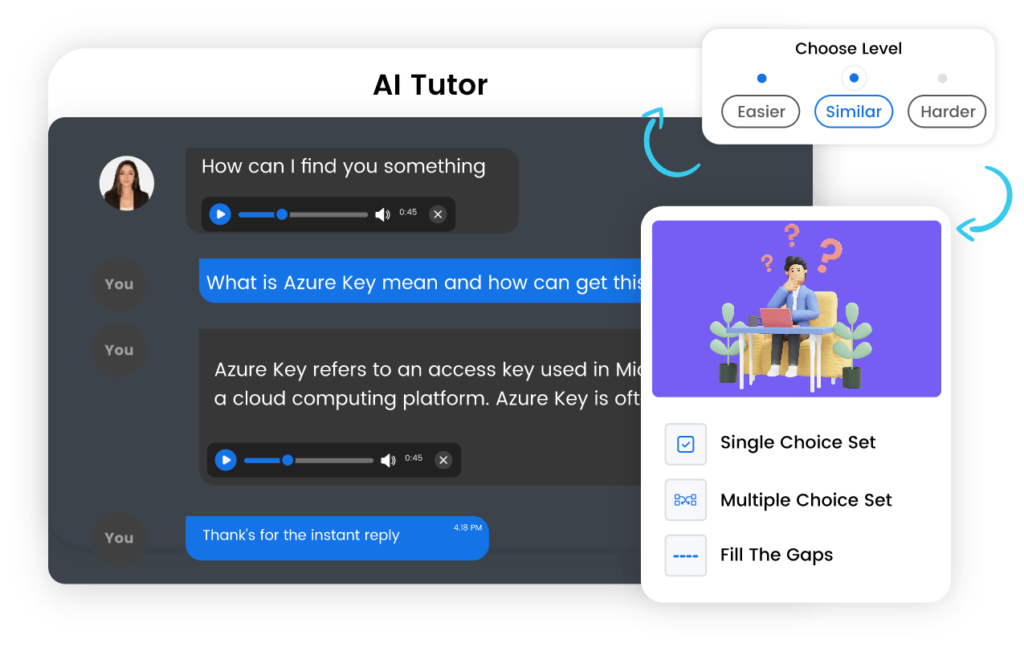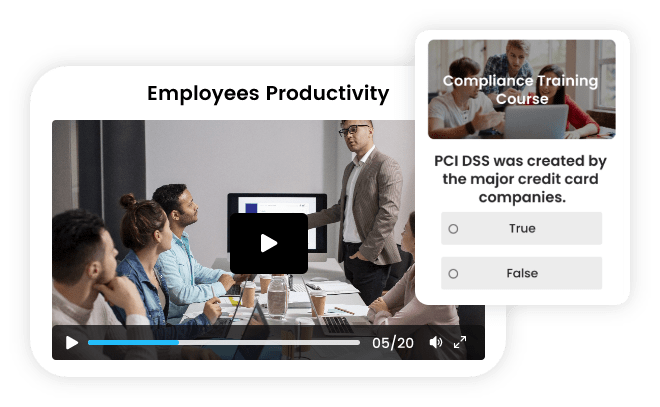 Increase employee's productivity with AI
You can make your training sessions more exciting by adding quizzes, images, explanatory videos, FAQs and simulations. You can generate these courses using the AI eLearning Authoring Tool or even customize it as per your requirements from scratch.
Create Informative Product Videos
Using the AI spokesperson and screen recording create educational videos that can streamline corporate learning. These videos excel in simplifying complex concepts and providing extensive, step-by-step lessons on any business-related topics.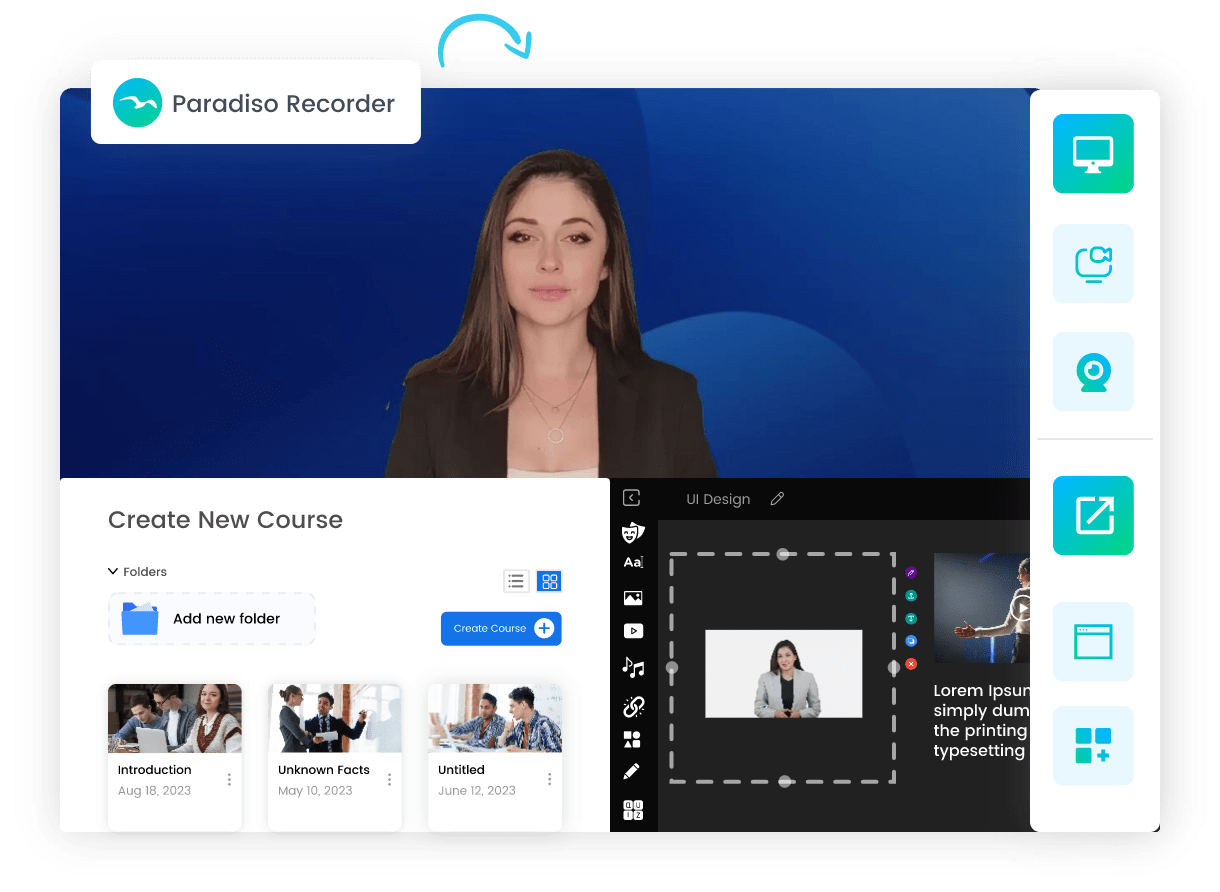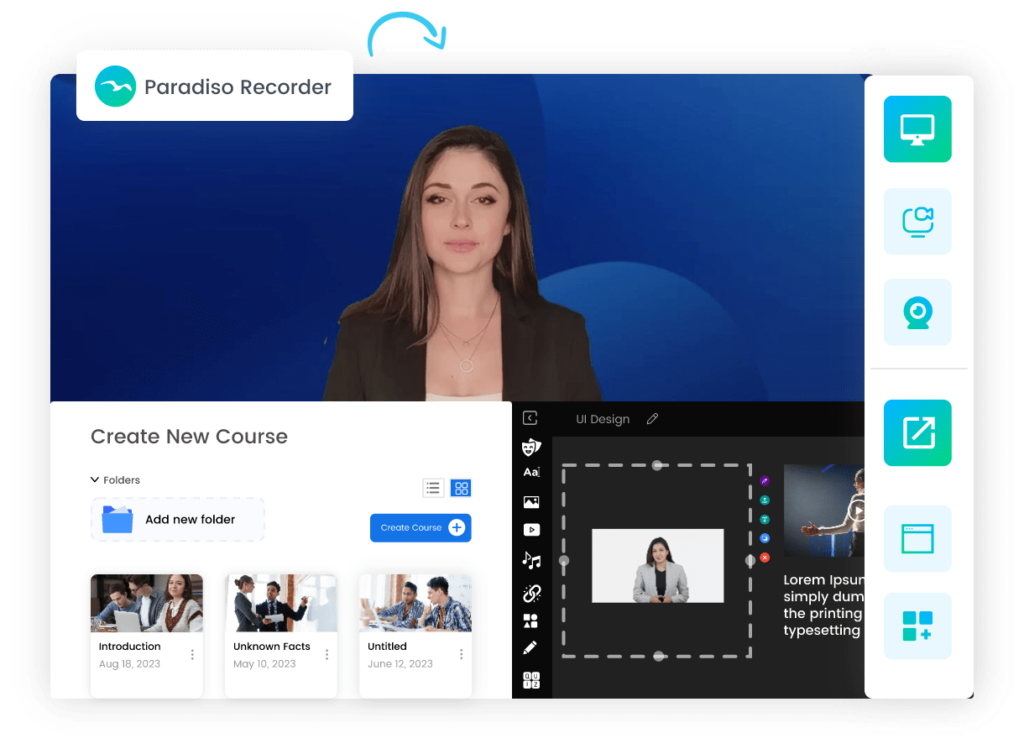 Enterprise ready solution for corporates
CogniSpark – Your Partner in corporate training
Enable anyone to create impactful content
It's like magic! Elevate your courses to the next level and save loads of time and money in the process. You've got to give it a go!

PPT to SCORM
Conversion
Make your boring presentations engaging for employees and customers using PPT to SCORM AI tool for trainers.

Inbuilt Screen
Recording
An AI based seamless tool for the corporate sector to capture and share training content in real-time.

Prebuilt Course
Library
Offers a of ready-to-use course templates, streamlining content creation for trainers.

AI Video
Generator
Showcase your videos with an AI spokesperson and edit them with stunning titles, music and images.

Micro-Learning
Videos
Concise videos to cater to the modern learner's preference for short, impactful lessons.

CogniSpark Translator
Translate your content into more than 75 languages to create a learner classroom globally.

CogniSpark Voiceover
Create a voiceover for better knowledge retention during a course.

AI Content
Generator
This AI tool for corporate ensures precise training content creation within mintues.

Cloud
Storage
Offers a secure, accessible platform for storing and retrieving training materials.

Choice based Simulations
Real life like scenario based training helps enhance the understanding and productivity of the employees.

Branching &
Navigation
Create self-paced learning scenarios, take on adaptive learning to make learning selective for users.

Flexible
Integration
Export and embed content into your preferred LMS or LXP, including Paradiso, Docebo and more. 
Works perfectly with 150+ popular LMS
SCORM or embedded eLearning content custom courses and course hub-links to be added give cross links
Now Create Instant corporate training solution that Sticks.
I've always struggled with creating engaging training content, but with CogniSpark Studio, I've been able to design courses that captivate our employees. The intuitive interface has made my job so much easier
As someone who's not primarily a course creator, CogniSpark has been a game-changer. The platform allows me to break down our product description videos into micro-learning modules, ensuring our team understands every detail over time. Our productivity has noticeably improved.
What I love about CogniSpark is its flexibility. Whether it's storing courses on cloud platforms or integrating them with our LMS, the platform seamlessly fits into our existing systems. Our global teams have benefited immensely from the interactive courses we've created.
The training courses created using CogniSpark are unlike any I've taken before. They're interactive, engaging, and broken down into bite-sized pieces that make learning so much more manageable. It's transformed how I view corporate training.


Introduction AI tools are having a significant impact on today's shifting educational scene. As technology progre0sses, teachers are embracing AI to better how they teach
Read More »


Introduction In today's fast-paced digital era, the world of education has undergone a remarkable transformation thanks to the advent of eLearning. As traditional classroom setups
Read More »


Introduction In today's rapidly evolving world, technology in various fields has become indispensable, and the realm of Learning and Development (L&D) is no exception. One
Read More »
Any
Questions?

Find here.
Don't find your answer here? just send us a message for any query.