AI eLearning Authoring Tool
Create

Engaging

Interactive

Responsive

Corporate training

Workplace learning

Micro Learning

Explanatory videos


Courses In Minutes!
An ideal solution for Professional Training & Coaching,
Academies, Workplace Training, SMEs and L&D Professionals.
Learn more by talking to our industries leading demo engineers
The One-Stop
AI eLearning Authoring Tool That Caters To All

Micro Learning
courses

eLearning Templates

Smart
quizzes

Curriculum
writing

Explanatory
Videos

Short training
clips
Explore how you can quickly create engaging courses
View the beautiful courses created using the AI eLearning authoring tool and see how it works 
Employee Handbook Course Template
3D Printing eLearning Course Template
Communication Skills Course Templates
Training with a
360-Degree Solution
Our perfect pair of AI and Authoring tools can give you an instant solution for your course creation.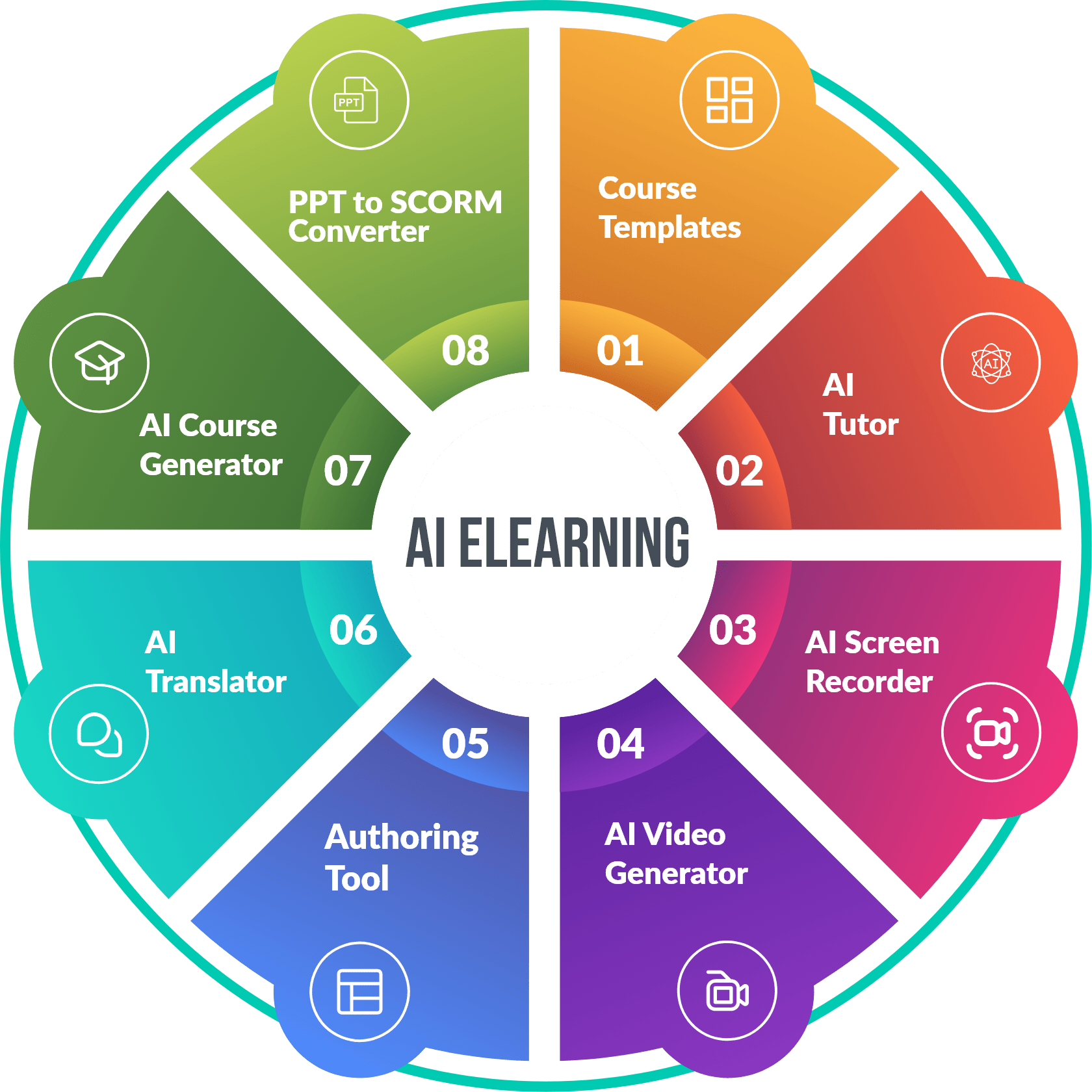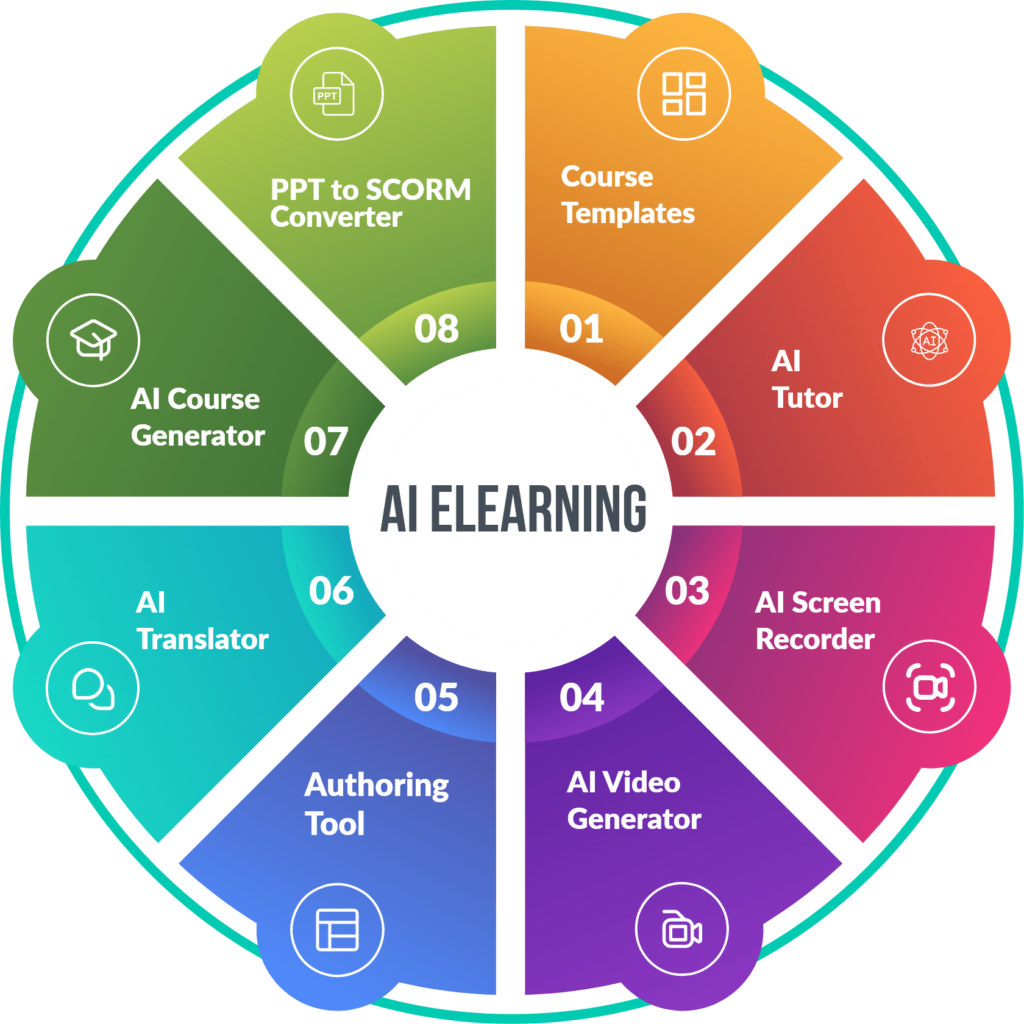 Fastrack Your Learning Process With The
AI eLearning Authoring Tool
View the beautiful courses created using CogniSpark and see how it works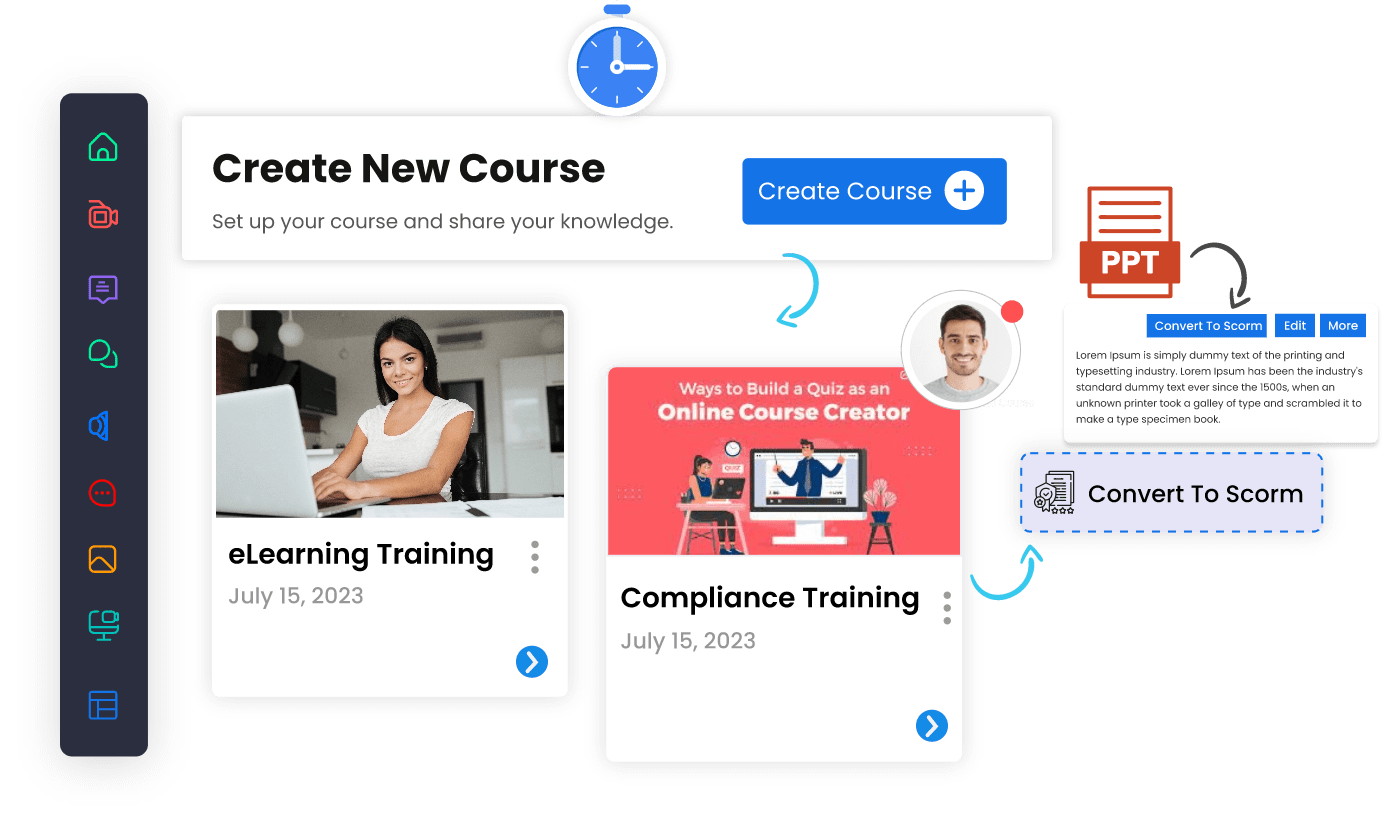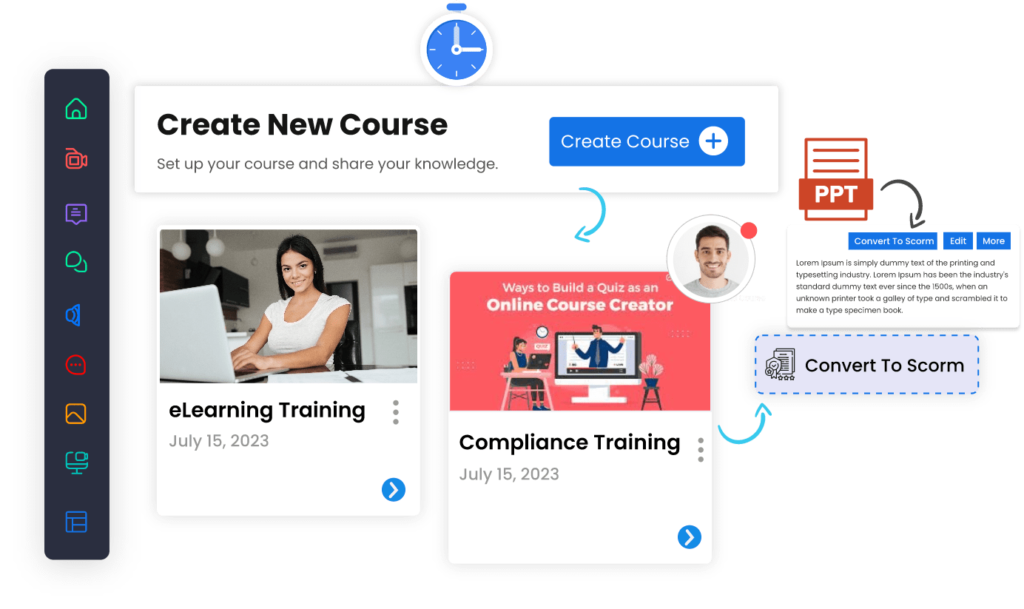 Save Time and Efforts in Course Creation
L&D professionals often need to create eLearning courses from scratch, which is time-consuming. With the CogniSpark eLearning Authoring Tool, authors can quickly create compelling courses without compromising quality.
Make Your
Courses Interactive
Traditional eLearning courses may fail to captivate learners, leading to low engagement and reduced knowledge retention. The AI tools and gamification features breathe life into the content, ensuring learners stay engaged throughout the Course.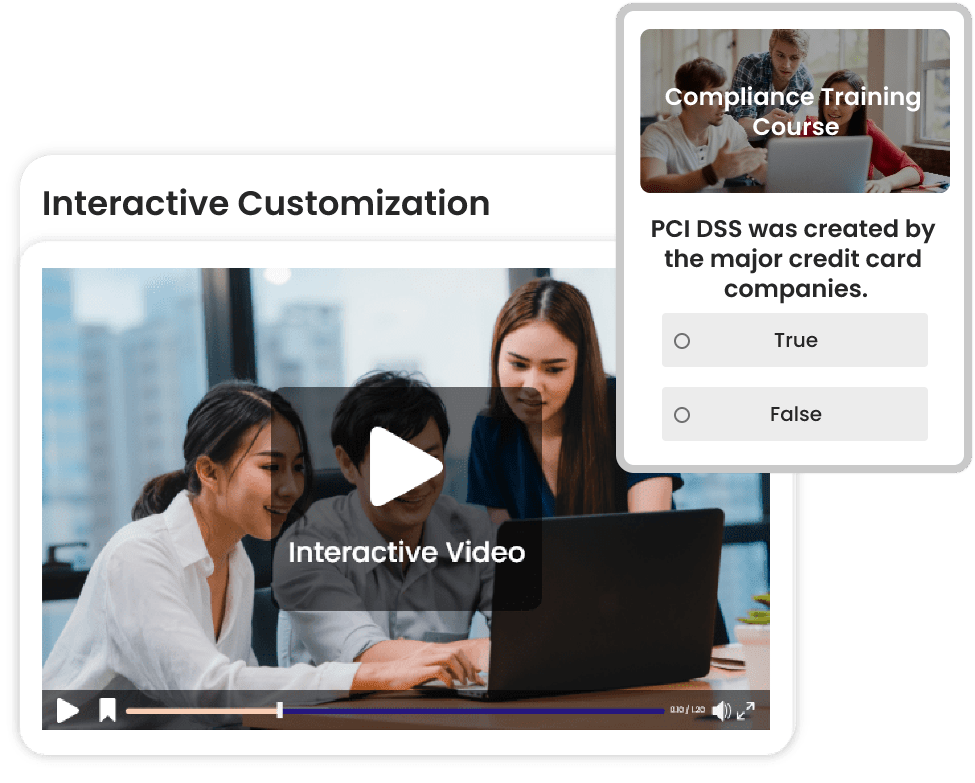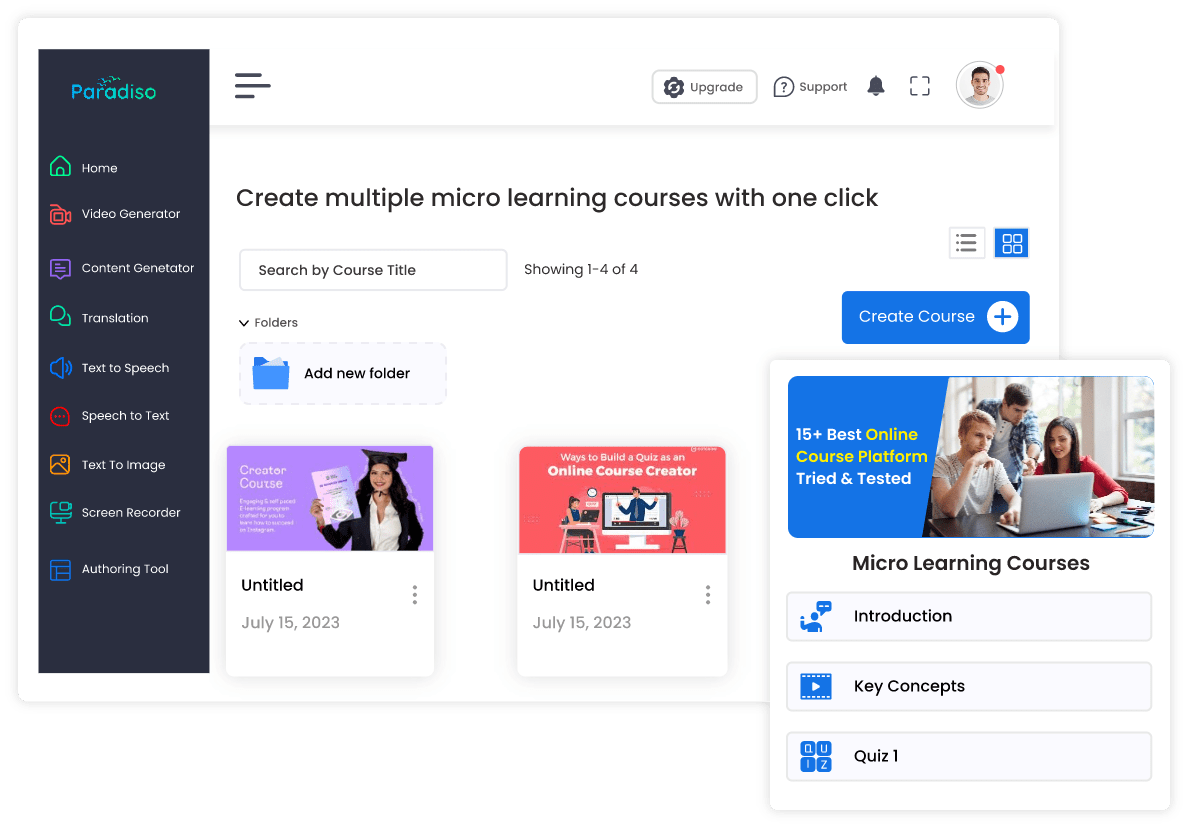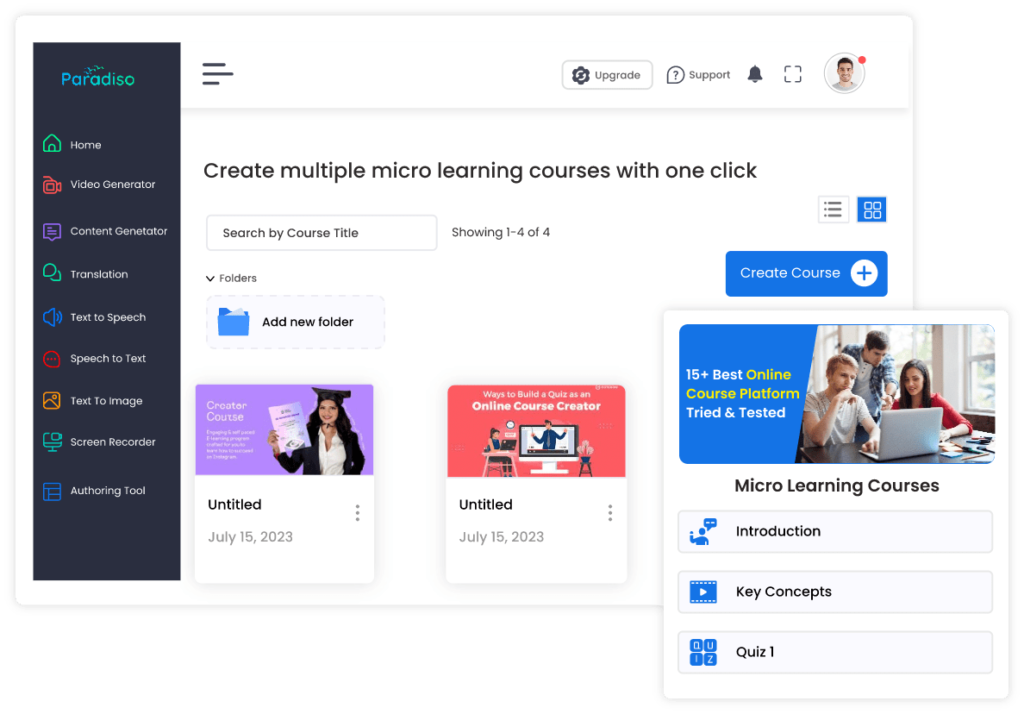 Create Simple
Microlearning courses
Designing even the simplest eLearning courses can be challenging. The AI eLearning Authoring Tool generates these bite-size courses automatically.
Enhance Content The Kapture Way
Use Paradiso Kapture to create HD screen recording, which is simple to distribute and include into eLearning courses in order to create a hands-on learning environment.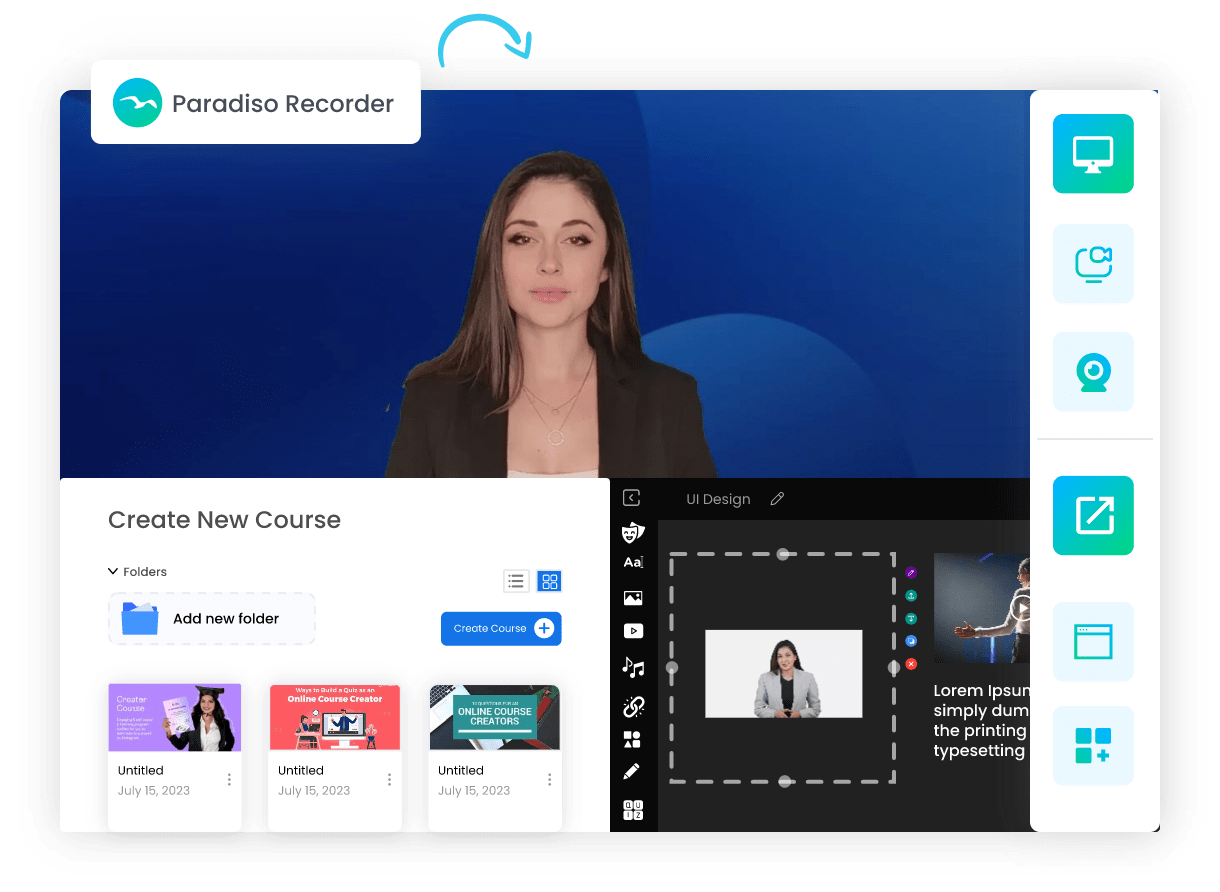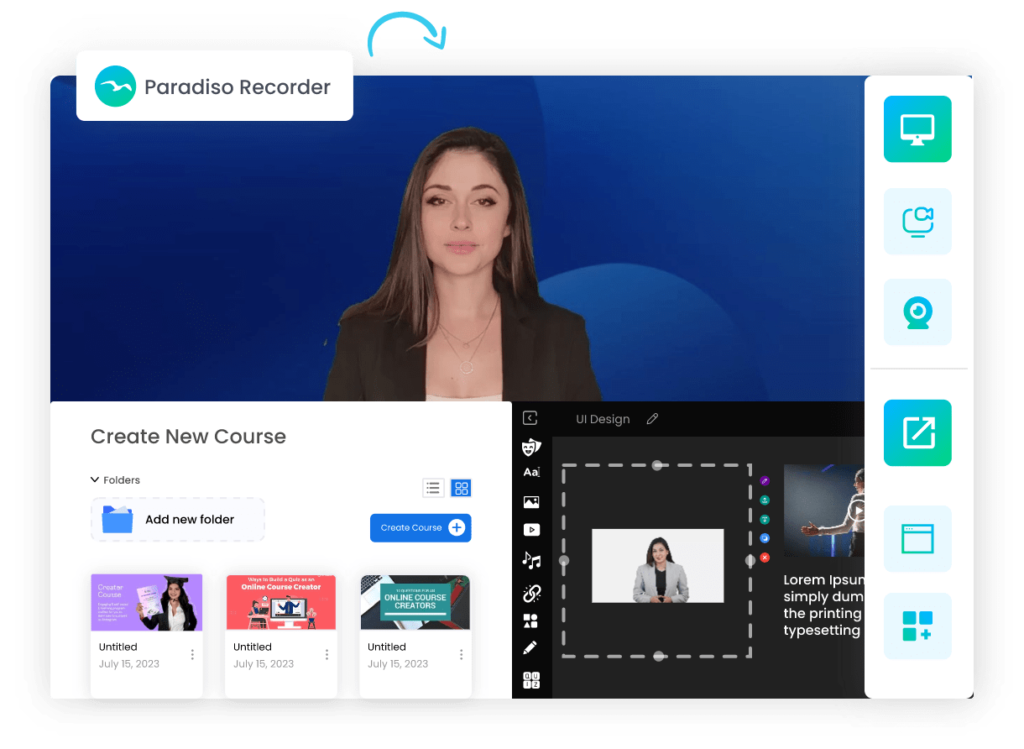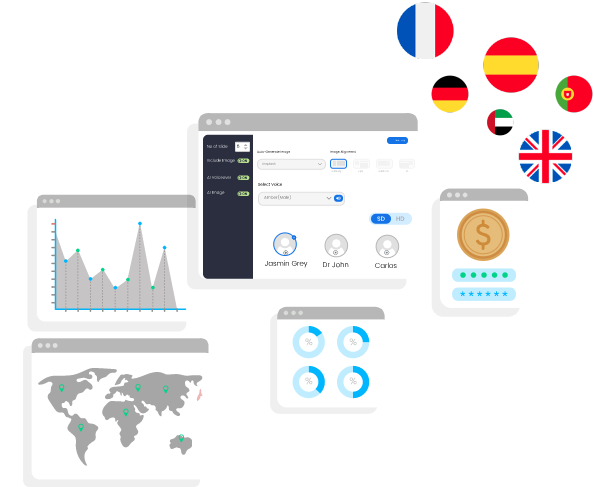 Go global
and increase your reach
 The AI translator with 75+ languages allows L&D professionals to localize content, ensuring effective learning worldwide.
Get Instant feedback
with the AI tutor
Learners need help understanding certain complex course content. Here, the AI tutor helps respond swiftly to questions and prompt feedback for better knowledge retention.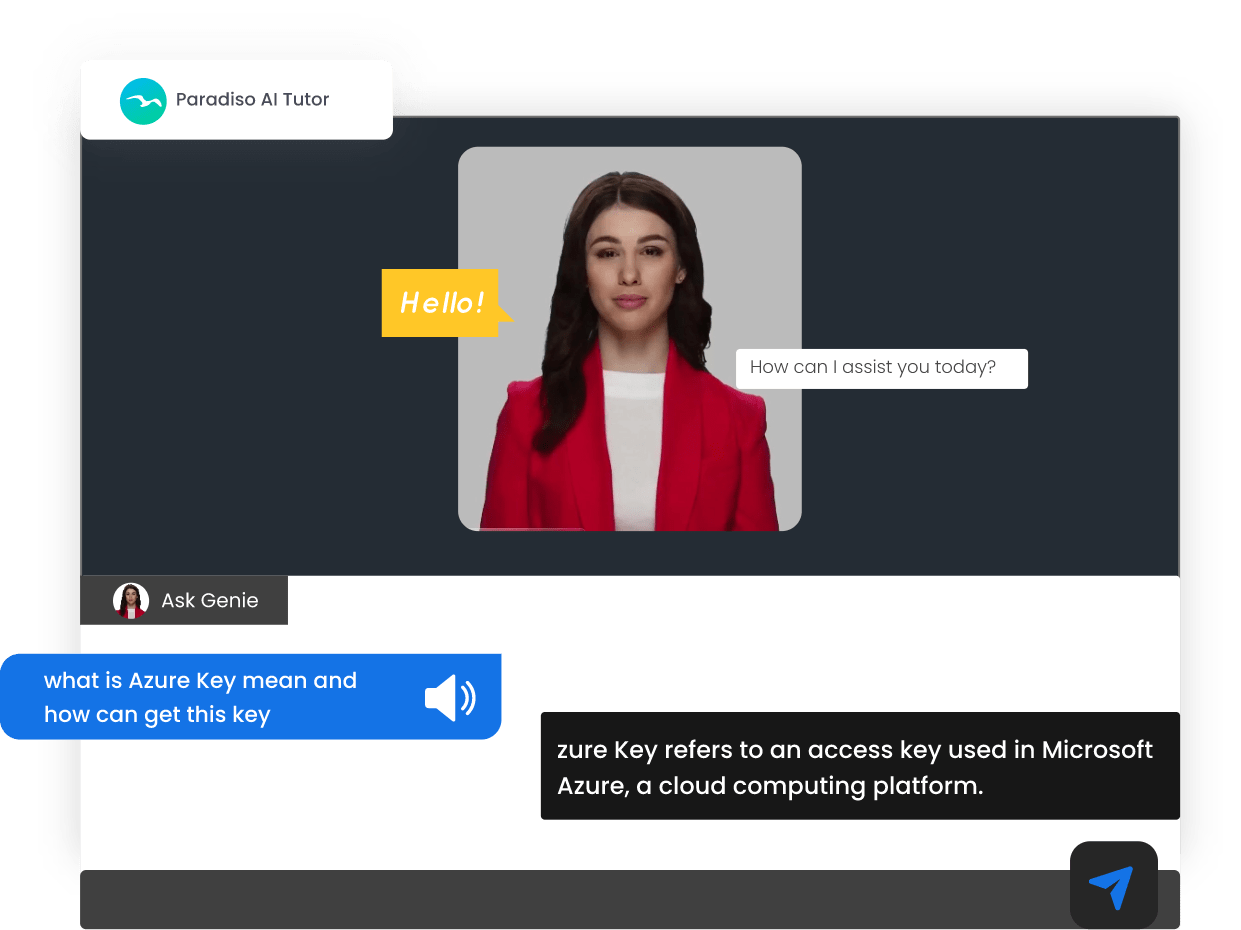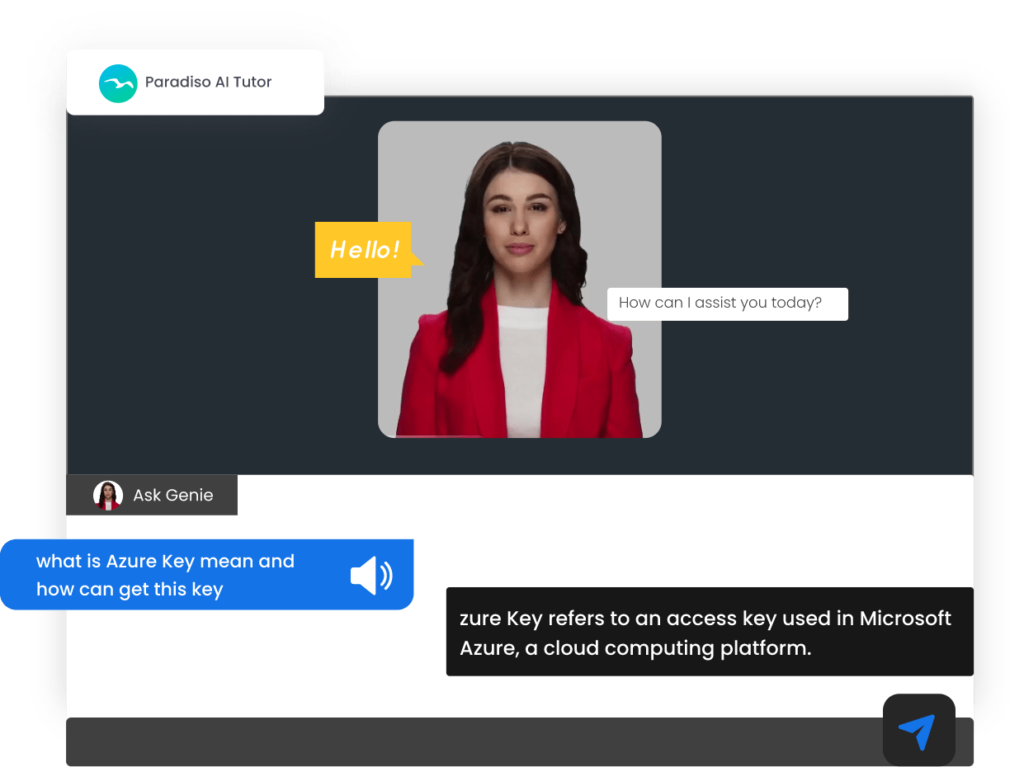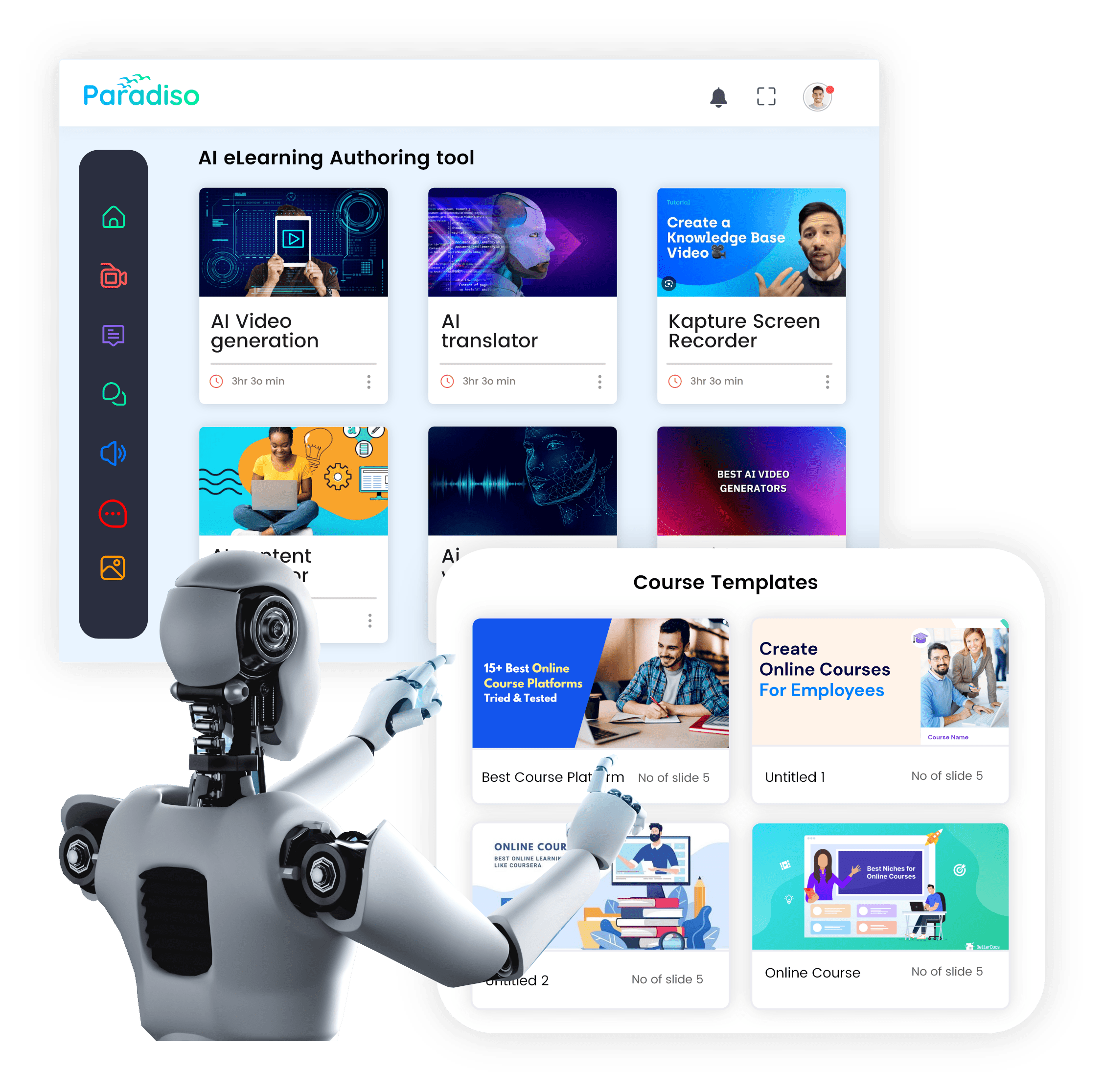 Save 80% of the cost by developing a simple and rapid edTech training solution.
Create courses in minutes rather than weeks using AI.
Use a variety of AI tools to create more adaptable and interesting courses.
Create eLearning content at scale with a single click.
Anyone with no hands-on experience may design great courses.
Simplify learning with the AI tutor


Enable anyone to create impactful content
It's like magic! Elevate your courses to the next level and save loads of time and money in the process. You've got to give it a go!

PPT to SCORM
Conversion
Convert your PowerPoint presentations into interactive courses.

Inbuilt Screen
Recording
Capture screen recordings directly within the platform for tutorial creation.

Prebuilt Course
Library
Get the perfect look for your content using beautiful pre-built course templates.

AI Video
Generator
Showcase your videos with an AI spokesperson and edit them with stunning titles, music and images.

Micro-Learning
Videos
Use the various prebuilt AI templates to create a micro-learning video library instantly.

CogniSpark Translator
Translate your content into more than 75 languages to reach a global audience.

CogniSpark Voiceover
Generate professional voiceovers for your courses using AI capabilities.

AI Content
Generator
Employ AI to generate course content, simplifying course creation.

Cloud
Storage
Access your eLearning content conveniently with cloud storage solutions.

Advanced
Quizzes
Frame interactive quizzes based on any other topic, or create a sequence of various questions to engage Learners.

Branching &
Navigation
Create self-paced learning scenarios, take on adaptive learning to make learning selective for users.

Flexible
Integration
Export and embed content into your preferred LMS or LXP, including Paradiso, Docebo, Cornerstone, and more. 
Works perfectly with 150+ popular LMS
SCORM or embedded eLearning content custom courses and course hub-links to be added give cross links
Level up your corporate training solutions with CogniSpark!
CogniSpark's text-to-speech feature has been a game-changer for my business. The natural-sounding voices and wide range of accents make it easy to reach a global audience. It's also incredibly user-friendly, making it a breeze to use for even the most non-technical members of our team.
I've been using CogniSpark's speech-to-text feature for transcription of my tutorials and it's been a lifesaver. The accuracy is top-notch and it saves me so much time compared to transcribing manually the content for my assignments. I highly recommend it.
I was blown away by the capabilities of CogniSpark's AI video generator. It's able to create high-quality videos which are quite engaging and look realistic within minutes. It's an invaluable tool for anyone looking to create videos quickly and easily. It has helped our Advertising agency in gaining more leads.
CogniSpark's text-to-text generator has been a great tool for me to quickly generate new ideas for my writing. It's helped me to write faster and more efficiently, and I've been able to produce high-quality content in no time


Introduction AI tools are having a significant impact on today's shifting educational scene. As technology progre0sses, teachers are embracing AI to better how they teach
Read More »


Introduction In today's fast-paced digital era, the world of education has undergone a remarkable transformation thanks to the advent of eLearning. As traditional classroom setups
Read More »


Introduction In today's rapidly evolving world, technology in various fields has become indispensable, and the realm of Learning and Development (L&D) is no exception. One
Read More »
Any
Questions?

Find here.
Don't find your answer here? just send us a message for any query.