AI solutions for

education

and

corporate training
Elevate Student Engagement, Boost Employee Productivity, and Reduce Costs with AI
A new way of Learning : Effective- Innovative-Interactive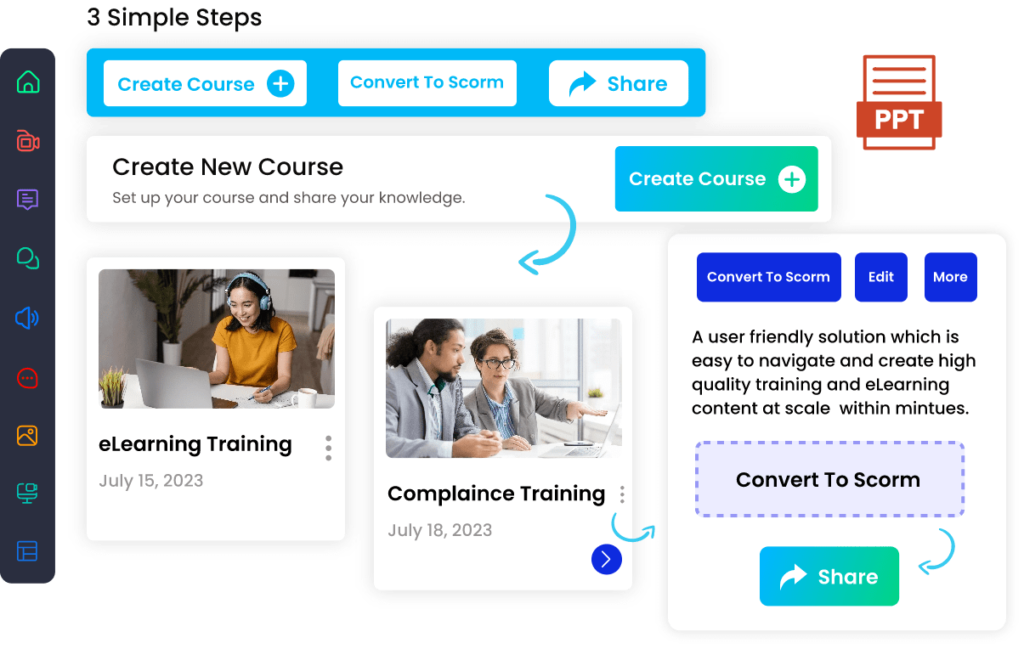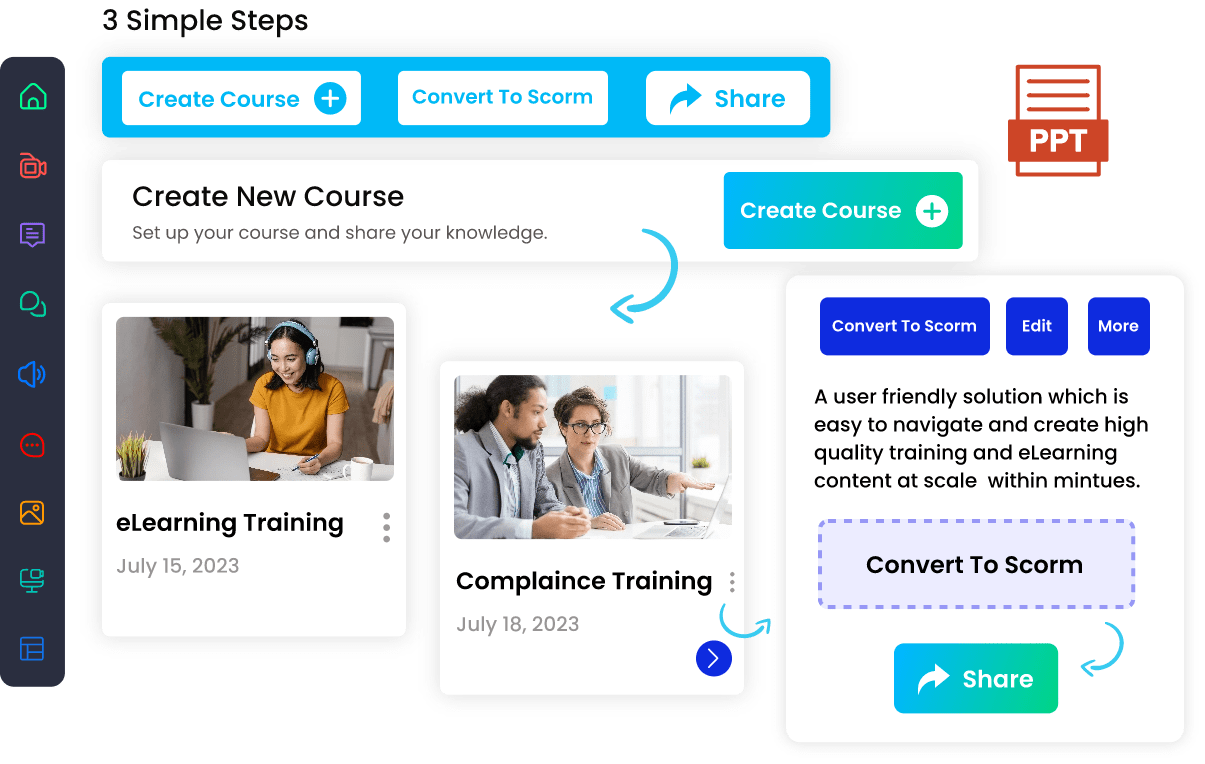 A user friendly solution which is easy to navigate and create high quality training and eLearning content at scale within minutes. Thus increasing Teachers and Trainers productivity by 50%.
Find tons of features that help make an excellent eLearning culture. Also, customize and use only those features per your use and budget needs.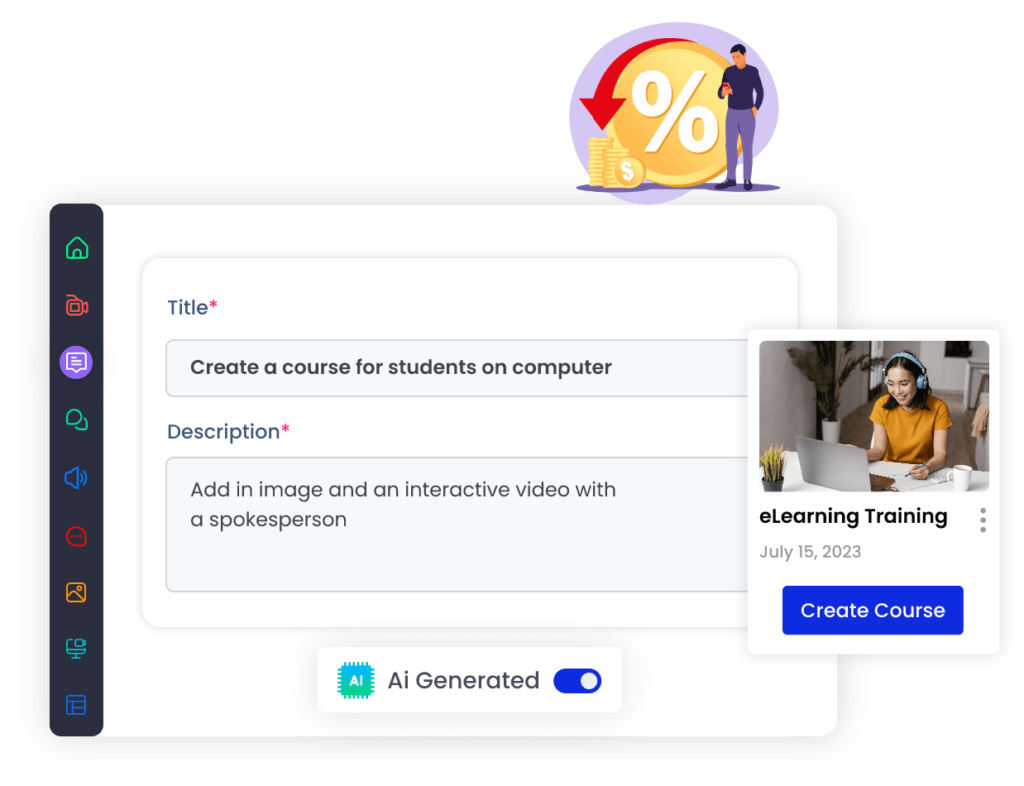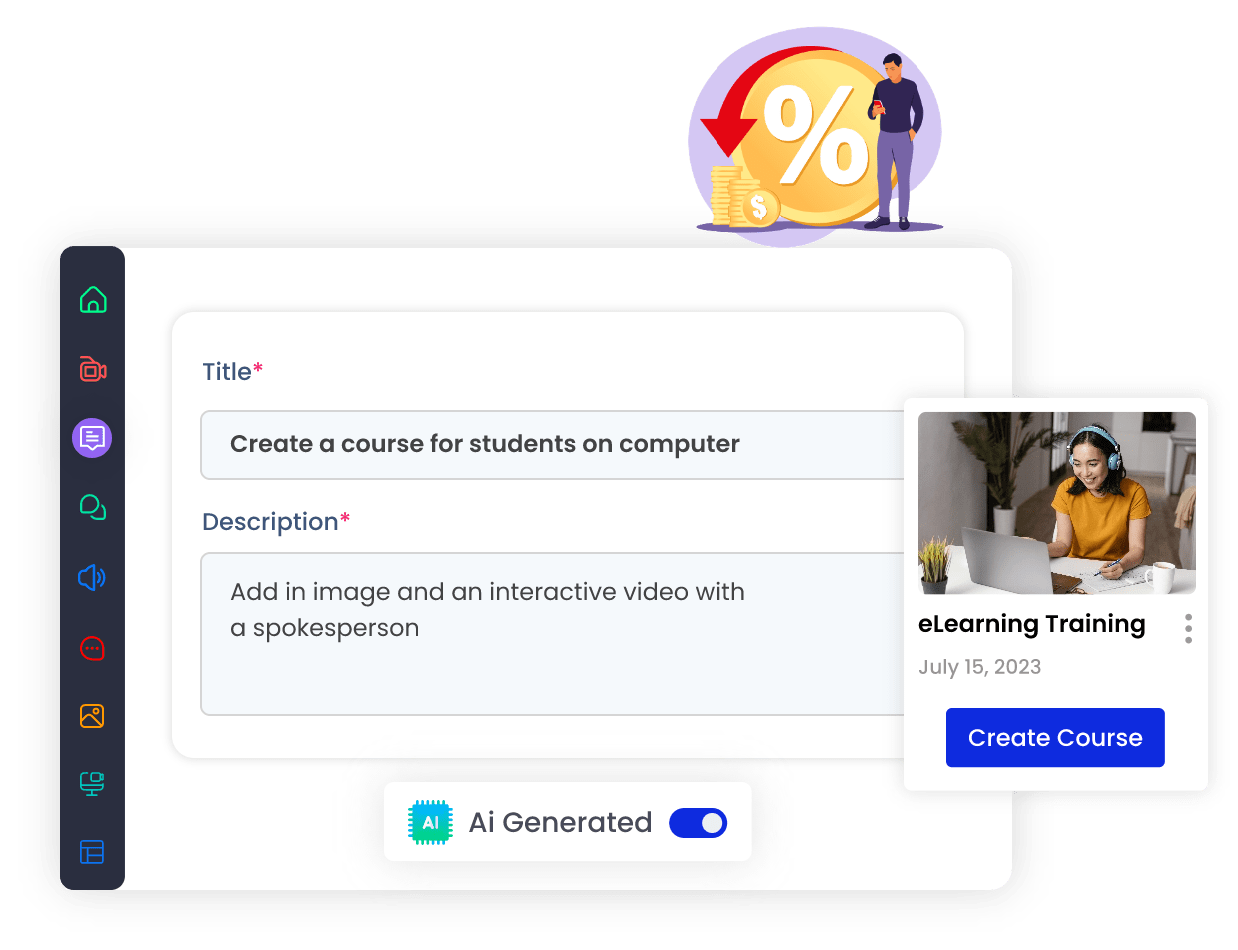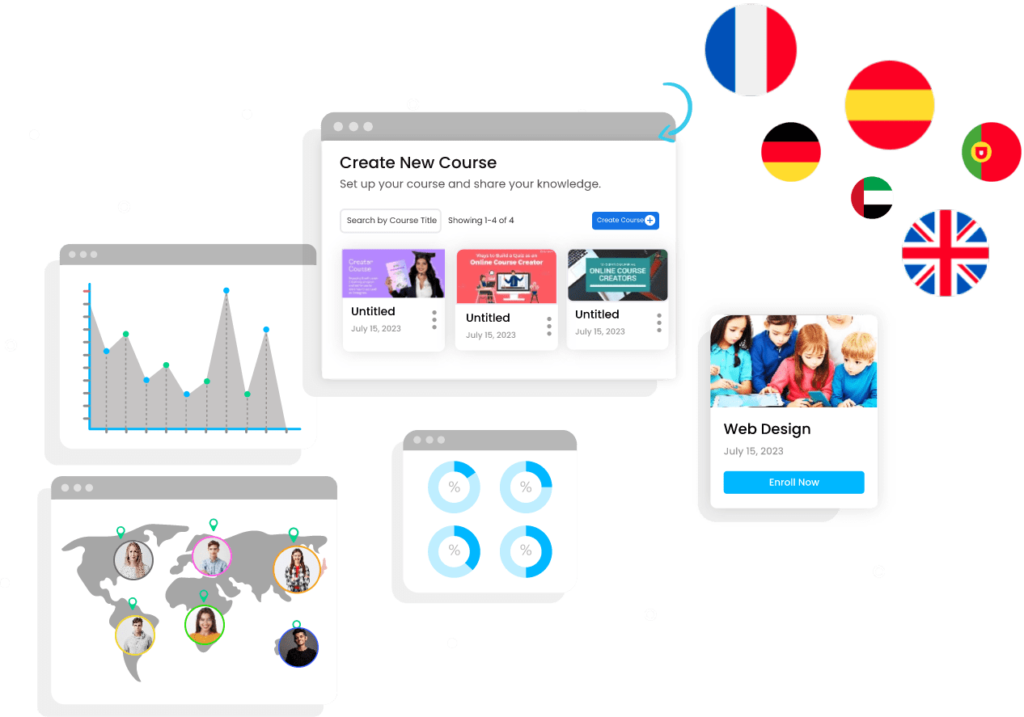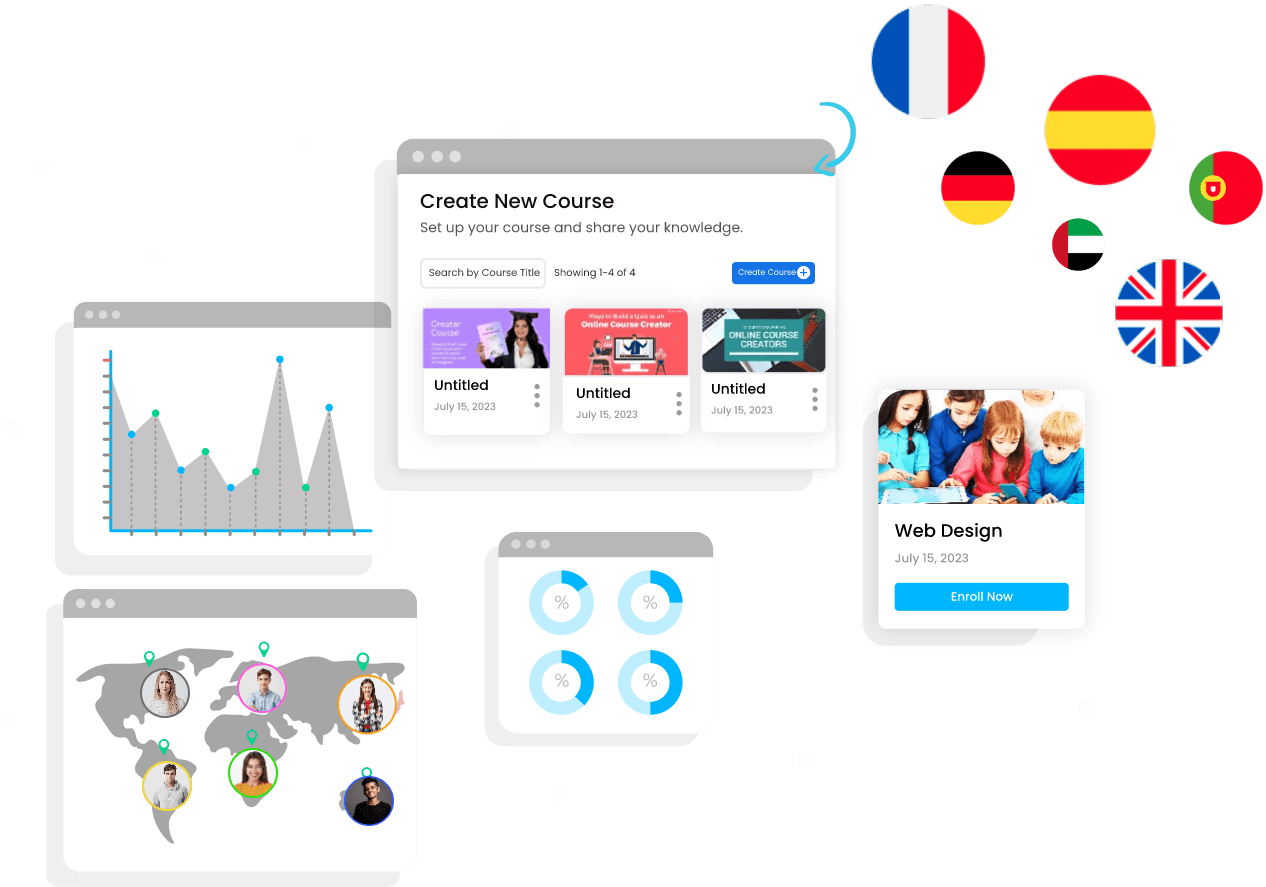 CogniSpark is ideal for global networks of learners. Translate your text into 75+ languages with accuracy and engage students from diverse backgrounds and regions.
Enhance student engagement and score by 30%. The gamification feature helps you create visually stunning content to captivate learners, making them more eager and motivated to understand new concepts.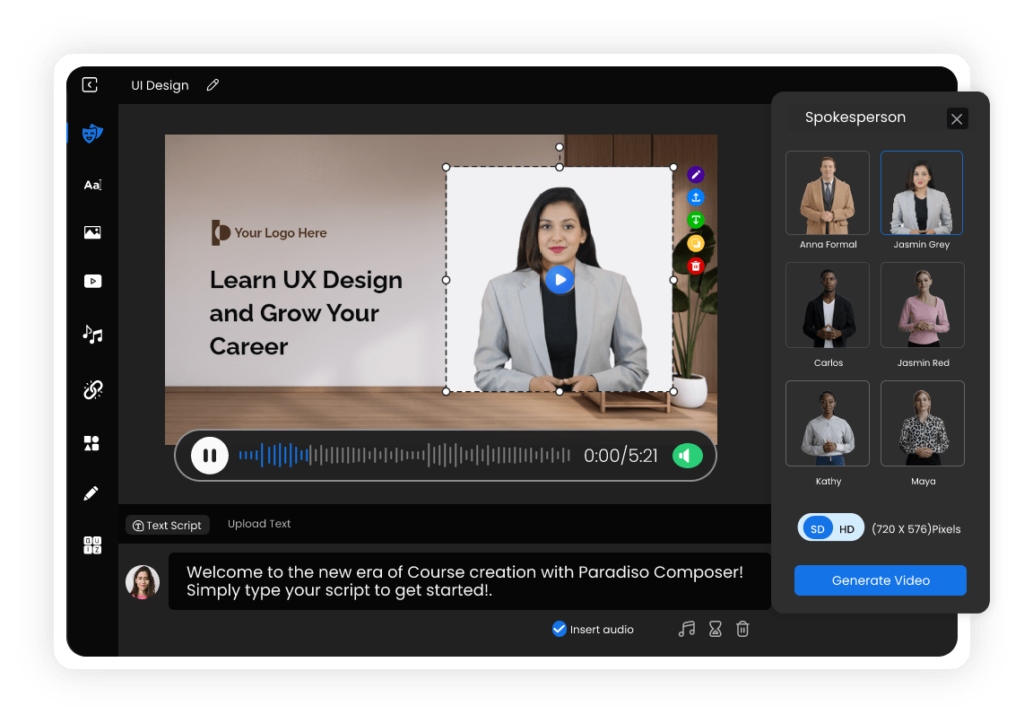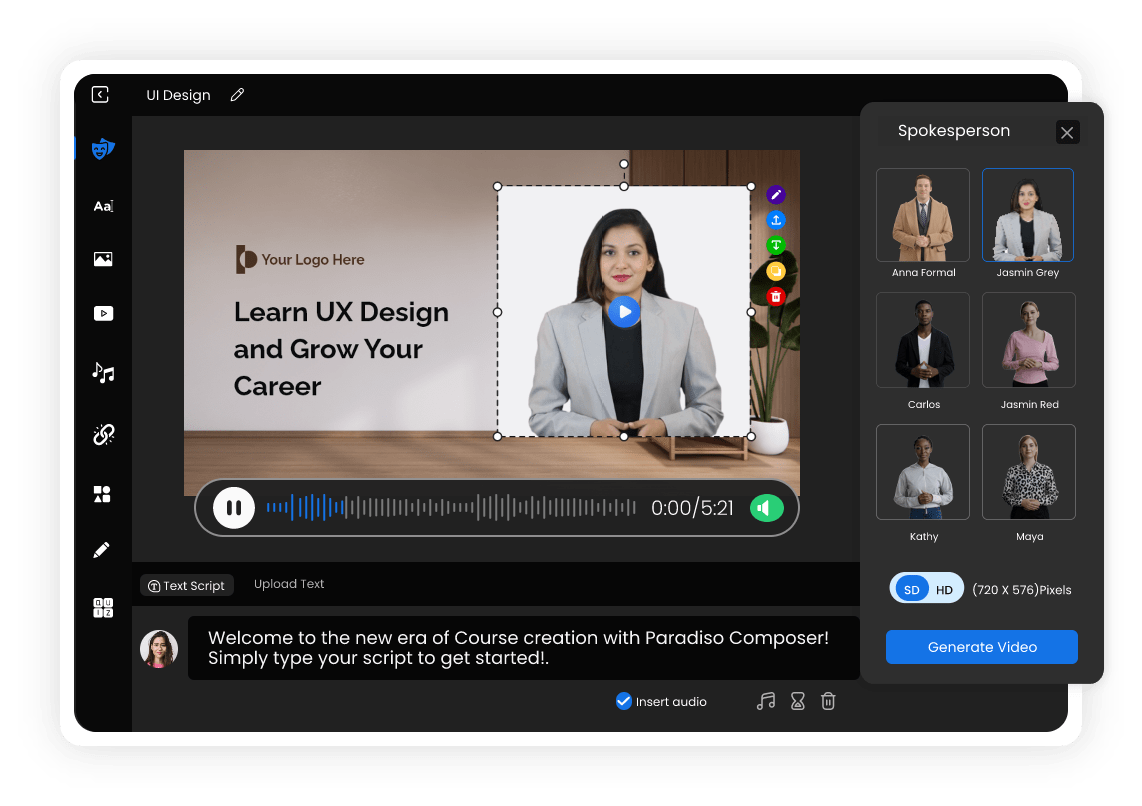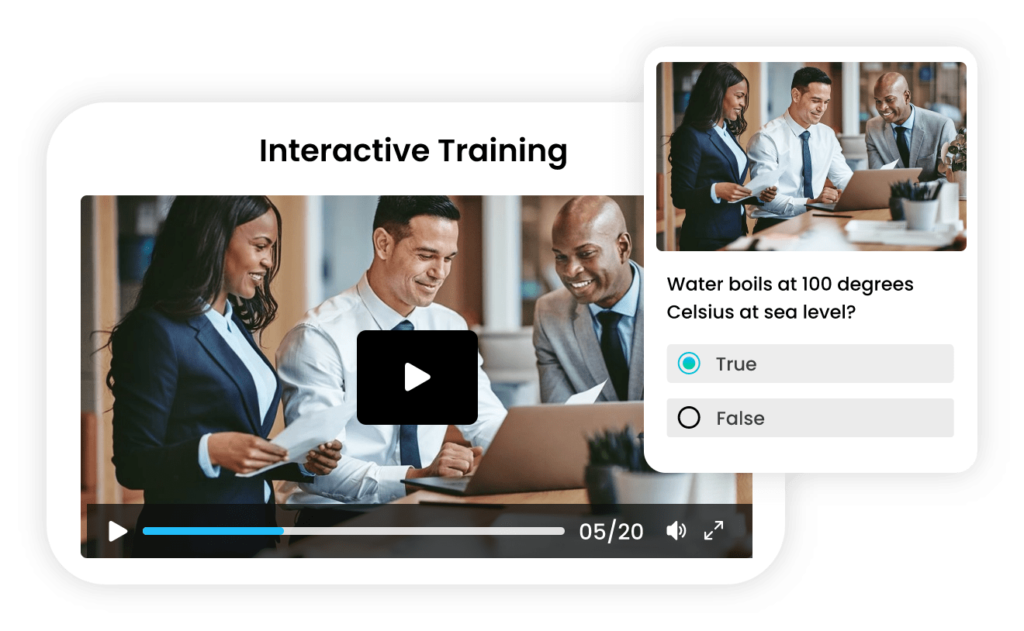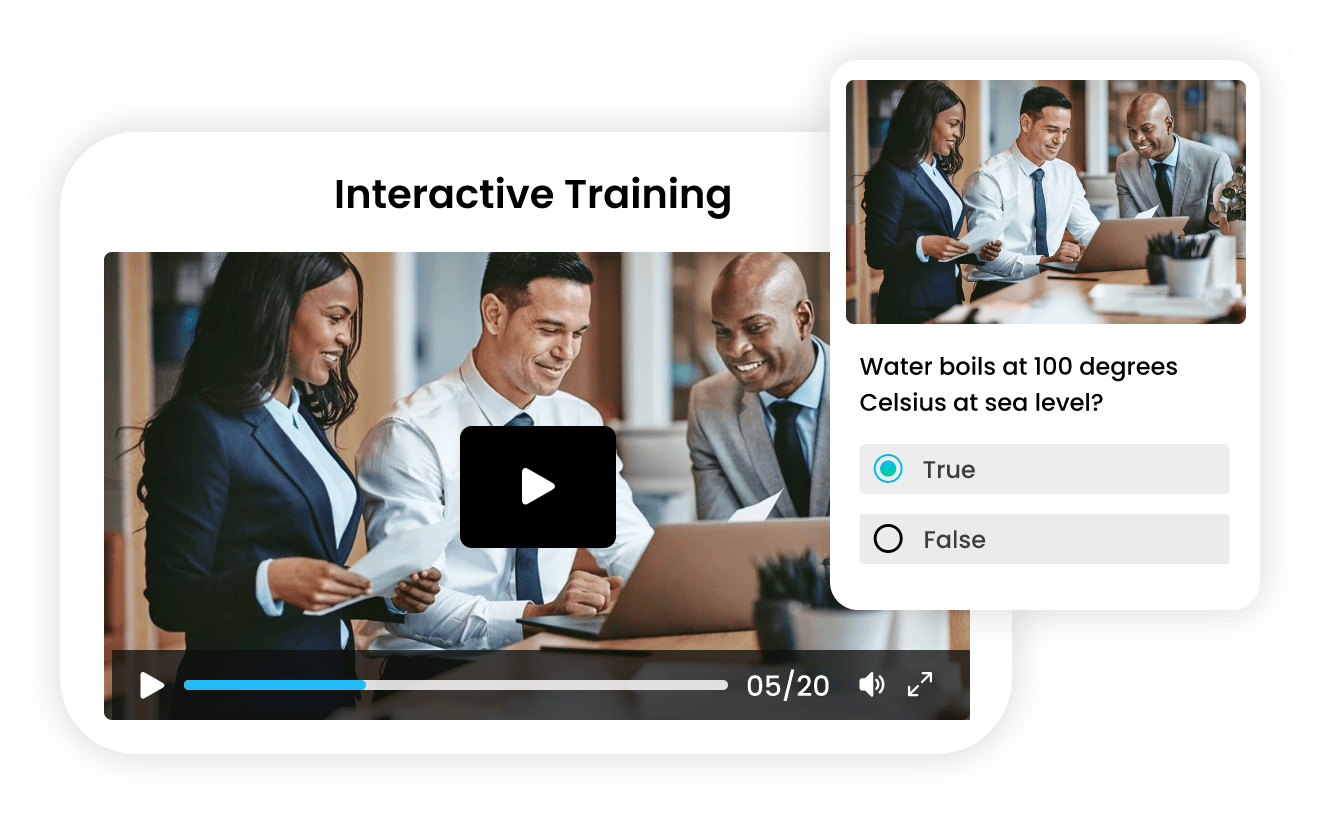 Effective and Interactive Training
Create highly effective and interactive learning content with quizzes, simulations, images, and videos for better knowledge retention. Scaling up employee productivity and student results 4X times.
Reduced Workload for Trainers
With the Magic of AI create educational content that is highly engaging and visually appealing, thus helping the students understand topics in a better way and reducing the burden on teachers.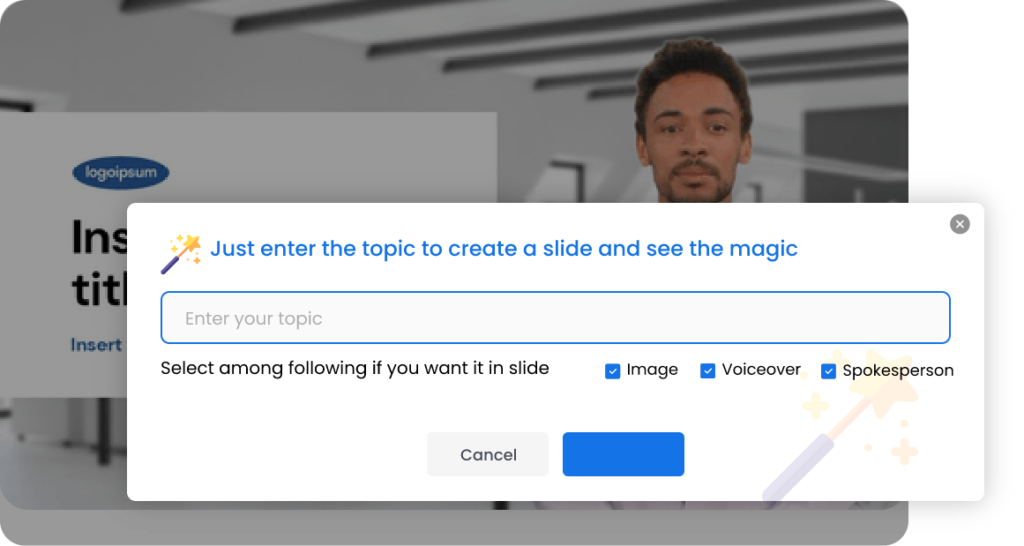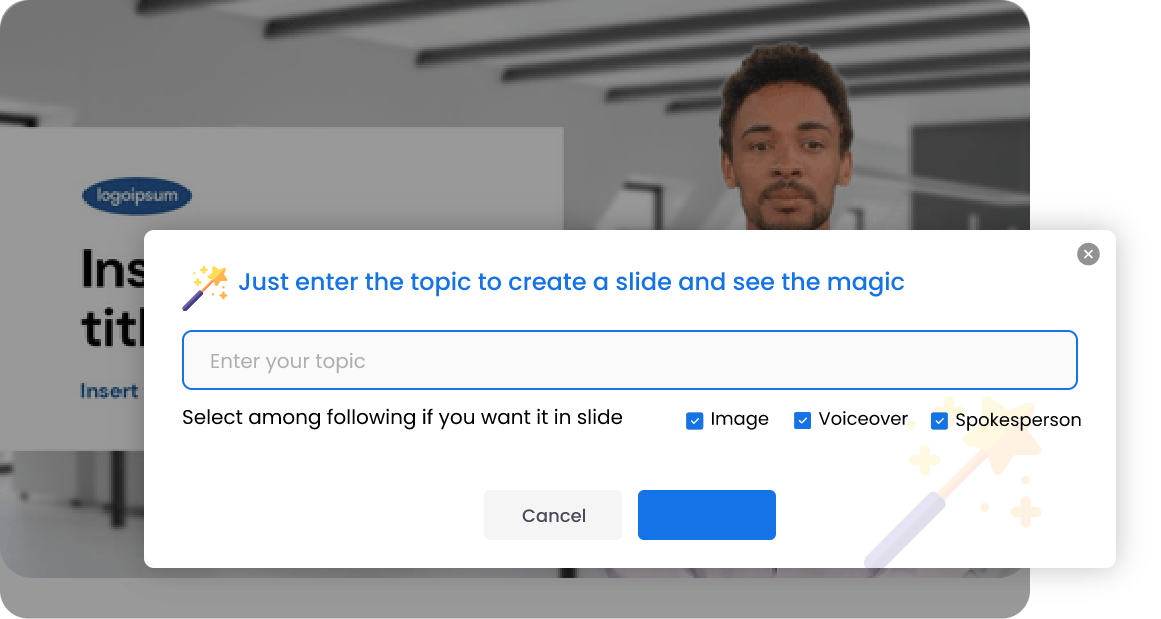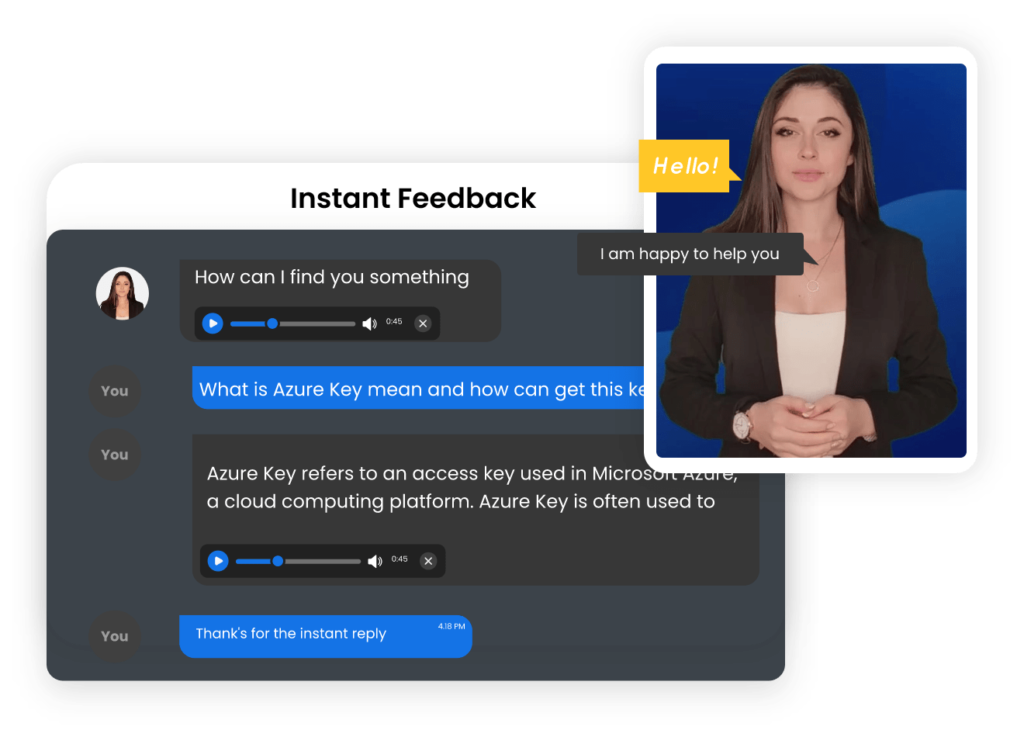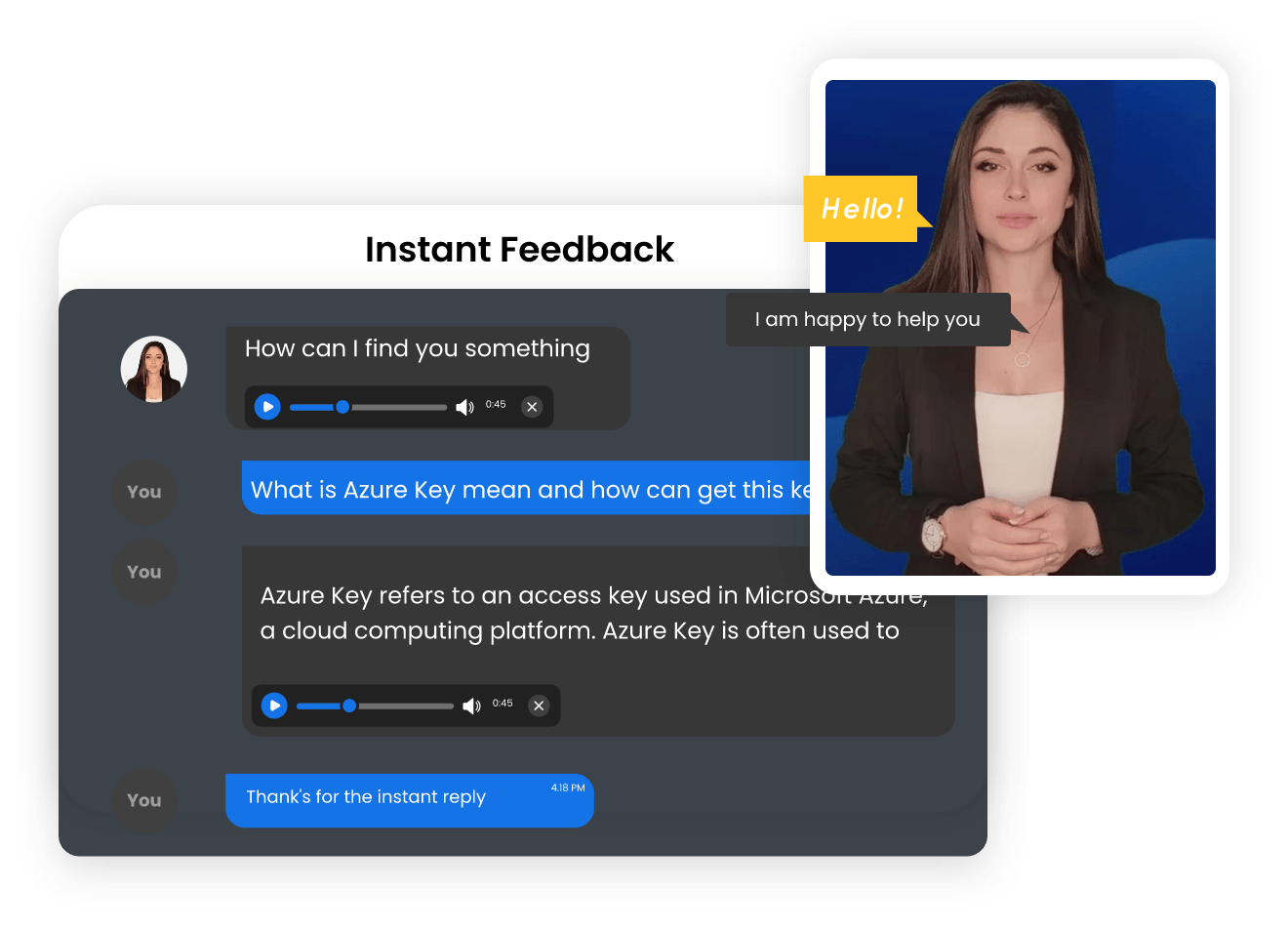 Get Instant feedback with the AI tutor
Learners need help understanding certain complex course content. Here, the AI tutor helps respond swiftly to questions and prompt feedback for better knowledge retention.
Create an effective and innovative way of learning and training the CogniSpark way
Scale up productivity and Revenue by 60% with A Smarter Path to Learning
A new way of Learning : Effective- Innovative-Ineractive

AI course creator
A smart and easy course builder to level up training and Learning.

eLearning Authoring Tool
An eLearning authoring tool that's simple to use

AI Tutor
Don't keep your Learners waiting for a solution with the AI tutor

AI media Generator
Make studio-quality videos and content come alive with an AI spokesperson

Smart Assistant
An AI Assistant which provides you detailed anlysis of courses and the user details

Screen recorder
Record your entire screen and create content for tutorials, demo lectures and training videos.
CogniSpark Studio:
Your Ultimate Learning Solution
CogniSpark Studio transcends the conventional learning platforms. It's the ideal fusion of AI tools and learning solutions, empowering educators and trainers to craft exceptional content that enhances learners' comprehension and knowledge retention.
From developing courses enriched with interactive components to assisting learners in clarifying doubts and gaining a deeper understanding of topics, our AI Tutor revolutionizes the learning experience.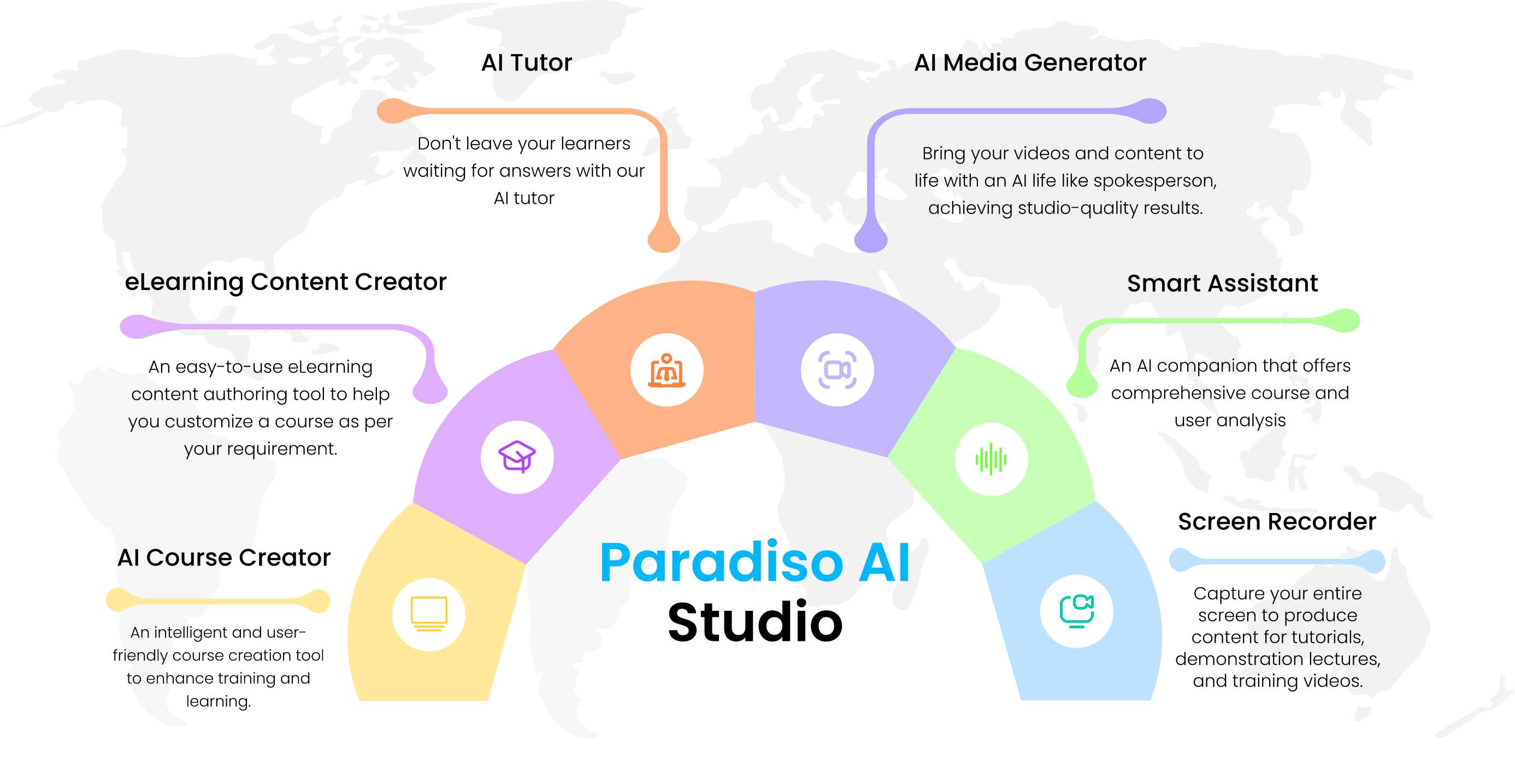 AI Tutor
Don't leave your learners waiting for answers with our AI tutor.
Smart Assistant
An AI companion that offers comprehensive course and user analysis
AI Course Creator
An intelligent and user-friendly course creation tool to enhance training and learning.
Screen Recorder
Capture your entire screen to produce content for tutorials, demonstration lectures, and training videos.
eLearning Authoring Tool
An easy-to-use eLearning authoring tool to help you customize a course as per your requirement.
AI Video Generation Platform
Bring your videos and content to life with an AI life like spokesperson, achieving studio-quality results.
Works perfectly with 150+ popular LMS
SCORM or embedded eLearning content custom courses and course hub-links to be added give cross links
Level up your learning solutions with CogniSpark!
CogniSpark has eliminated the need for expensive and time-consuming voice-over recording sessions. With this powerful tool, I can easily create engaging and professional-quality training videos in a fraction of the time.
As an instructional designer, I'm always looking for ways to improve the quality of my e-learning courses. CogniSpark has been a game-changer for me, allowing me to create personalized and interactive video content that really resonates with my learners.
CogniSpark has revolutionized my video production workflow, enabling me to create high-quality training videos faster and more efficiently than ever before. I couldn't be happier with the results.
I was skeptical about using an AI-powered tool for video creation, but CogniSpark has exceeded all my expectations. The natural-sounding voiceovers and customizable animations make my e-learning courses stand out, and my learners love it


Introduction AI tools are having a significant impact on today's shifting educational scene. As technology progre0sses, teachers are embracing AI to better how they teach
Read More »


Introduction In today's fast-paced digital era, the world of education has undergone a remarkable transformation thanks to the advent of eLearning. As traditional classroom setups
Read More »


Introduction In today's rapidly evolving world, technology in various fields has become indispensable, and the realm of Learning and Development (L&D) is no exception. One
Read More »
Any Questions? Find here.
Don't find your answer here? just send us a message for any query.